January is Poverty Awareness Month in U.S.
Published: January 4, 2022
"The face of God revealed by Jesus is that of a Father concerned for and close to the poor. In everything, Jesus teaches that poverty is not the result of fate, but a concrete sign pointing to his presence among us. ... As I never tire of repeating, the poor are true evangelizers, for they were the first to be evangelized and called to share in the Lord's joy and his kingdom." — Pope Francis, Message for Fifth World Day of the Poor, 2021
Did you know more than 38 million people live in poverty in the United States? In Arkansas, nearly 500,000 are poor. Of these, about 24 percent are children. January is Poverty Awareness Month and the Catholic Campaign for Human Development (CCHD) offers a daily calendar and reflections to help us observe the month by taking up "Pope Francis' challenge to live in solidarity with the poor."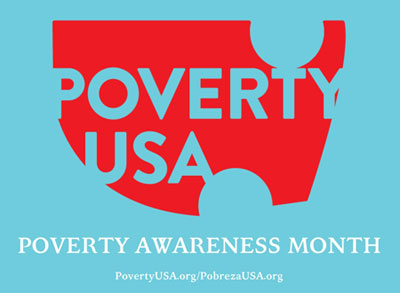 CCHD, the national anti-poverty program of the U.S. Conference of Catholic Bishops, offers other resources to create awareness of and ways to address the root causes of poverty in America, including the website, Poverty USA. It challenges visitors to encounter, learn and act to fight poverty.
Catholic Charities of the Archdiocese of Galveston-Houston will offer "Know Poverty Summit 2022: The Intersection of Poverty and Trauma," a free, virtual event from 9 to 11:30 a.m. Thursday, Jan. 27. Its aim is to explore how faith communities can help individuals and families move from poverty to greater economic sustainability. Register online. The video below features the conference's keynote speaker, Dr. Matthew Desmond, sociology professor at Princeton University, and author of the book "Evicted."

In Arkansas, Catholic Charities of Arkansas offers several ministries that serve the poor and vulnerable among us, including: Catholic Adoption Services; Catholic Immigration Services in Little Rock and Springdale; prison ministry; refugee resettlement; Westside Free Medical Clinic; family assistance; and disaster response. The St. Nicholas Partners appeal, which began during Advent, continues to collect donations through January to support these ministries. Go to St. Nicholas Partners to learn more. If you wish to support this appeal, you may donate online or download this PDF and mail your check to the address provided.
---
---