Friend to be ordained to diaconate May 22
Published: May 17, 2019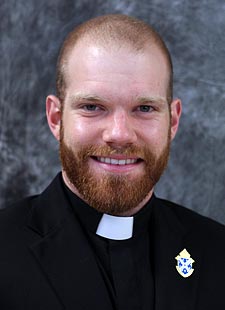 Bishop Anthony B. Taylor will celebrate the diaconate ordination Mass of Joseph Friend at 6 p.m. Wednesday, May 22 at Christ the King Church in Little Rock. Being ordained a transitional deacon is a major step toward priestly ordination. A reception will follow the Mass. All are invited to attend. If unable to come, set up a notification on your phone to watch the ordination live.
Guests are also welcome to attend a holy hour for Friend at 4 p.m. Wednesday, May 22 at Christ the King. During eucharistic adoration and vespers, prayers will be offered for him and an increase in vocations to the priesthood and religious life.
Friend, 25, is the son of Dr. Jerry and Dona Friend and the late Betty Friend. He will serve his first Mass as a deacon and preach his first homily on Sunday, May 26 at 12:15 p.m. at Christ the King Church.
In his vocation story he wrote, "As I prepare for my ordination for the diaconate, I am thankful to know I have a wonderful supporting cast here in Arkansas. It is humbling to learn just how much the people are praying for us." Read the rest of his story.
Friend is currently studying at St. Meinrad Seminary in Indiana in preparation for ordination to the priesthood in 2020. For more information, contact the Vocations and Seminarians Office at (501) 664-0340.
---