Find truth: Subscribe to Arkansas Catholic
Published: February 2, 2017
Get Digital Edition for FREE in February
Get Arkansas Catholic Digital for free through the end of February. Click on the button above and log in
with this e-mail ID: freedigitalAC@gmail.com and type in the password: freefree.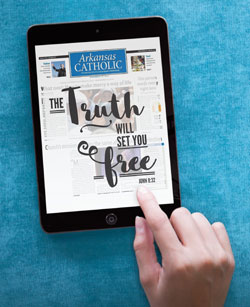 The Scriptures tell us, "the truth will set you free." (John 8:32) Subscribe to Arkansas Catholic because you need a source you can trust when truth is hard to find. Arkansas Catholic, the award-winning weekly newspaper of the Diocese of Little Rock, offers complete print and digital subscriptions.
The print edition is delivered to your mailbox every week. Subscriptions are only $26 a year ($24 for seniors). Subscription envelopes are available at the church or by calling (501) 664-0125.
Or you can get Arkansas Catholic Digital the same day it's published on your computer and most smart devices. Postal delays are no longer a problem. Log on to Digital Edition and sign up for only $12.95 a year. This subscription also gives you access to back issues to 2002.
A print+digital combination. Add the digital edition to your print subscription for just $5 more a year. Call (501) 664-0125 if you already are a paid print subscriber and want to also get the digital edition.
To learn more, visit Arkansas Catholic or contact Rose Harrigan, circulation manager, at (501) 664-0125 from 8:30 a.m. to 5 p.m. Monday through Friday.