Father Robert Dienert, 90, dies on May 9
Published: May 10, 2021
Father Robert Dienert, a diocesan priest for 58 years, died on Sunday, May 9. He was 90. A rosary and vigil service will be held at 7 p.m., Wednesday, May 12 at Immaculate Heart of Mary Church in North Little Rock (Marche). The Mass of Christian Burial will be at 11 a.m. Thursday, May 13, also at Immaculate Heart of Mary, with burial to follow in the parish cemetery.
Memorial donations can be made to the Msgr. James O'Connell Seminarian Fund, Diocese of Little Rock, P.O. Box 7565, Little Rock, AR 72217-7565. Bishop Anthony B. Taylor addressed the following letter to all priests Sunday, May 9 announcing Father Dienert's death.
"Dear Brothers in Christ,

"With faith in eternal life and a heavy heart, I announce the death of Father Robert "Bob" Dienert. He died on May 9, 2021 at Hospice Home Care. The funeral arrangements are pending. All who knew Father Dienert knew the devotion he showed to his mother throughout her life. As such it is most fitting that his death occurs on the Sixth Sunday of Easter, which this year is Mother's Day. As is our custom, please offer three Masses for the repose of his soul.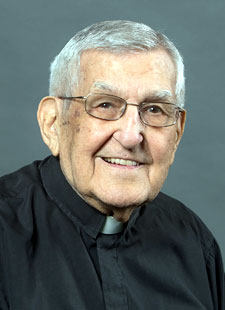 "Father Robert Thomas Dienert entered eternal life on May 9, 2021. Born in Pittsburgh, Pennsylvania, on Aug. 30, 1930, he spent his formative years in Detroit, Michigan. It was in Detroit that he felt called to serve God. He spent some time with the Trappist monks at Gethsemane, Kentucky where he was influenced by Thomas Merton.
"Discerning a vocation to the diocesan priesthood, Father Dienert entered St. John's Home Mission Seminary to pursue studies for the priesthood. On May 31, 1962, Bishop Albert Fletcher ordained him to the priesthood for the Diocese of Little Rock.

"After ordination, he served as associate pastor of St. Joseph in Pine Bluff, St. Edward in Texarkana, Our Lady of Good Counsel in Little Rock, Immaculate Conception and St. Anne in North Little Rock. His first pastorate was St. Thomas Aquinas in Fayetteville.
"Over the course of his priesthood he served as pastor of St. Louis in Camden, St. Mary in St. Vincent, St. Jude in Clinton, St. Francis in Fairfield Bay, St. Edward in Texarkana, St. Elizabeth in Eureka Springs, St. James in Searcy and Immaculate Heart of Mary in Marche. In 2011, Father Dienert transitioned to senior priest status with residence at St. John Manor.

"In addition to parish ministry, Father Dienert taught religion at Mount St. Mary's in Little Rock and served as a hospital chaplain at St. Bernards hospital in Jonesboro. He was the dean of the North Central Deanery, as well as serving on several boards and councils of the diocese.

"Father Dienert is preceded in death by his mother, Nellie Butler, to whom he was devoted, his stepfather Clyde Butler, and one brother, Sonny, who died in infancy. In 1976, Mrs. Butler moved to Arkansas to be near her son. He took care of her until her death in 2008. He is survived by cousins from various parts of the country.
"Sincerely in Christ,
+Anthony B. Taylor
Bishop of Little Rock"
Eternal rest grant unto him, O Lord. And let the perpetual light shine upon him. And may he and the souls of all the faithful departed, through the mercy of God, rest in peace. Amen.