Extravaganza focuses on pro-life issues
Published: December 30, 2015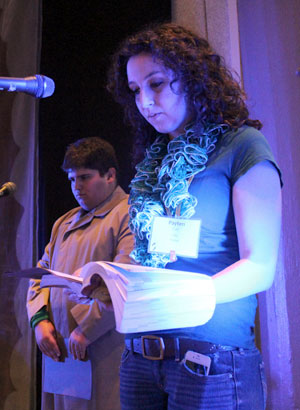 The diocesan Catholic Youth Ministry Office will sponsor its annual Weekend Extravaganza, a "lock'in" for teens at the DoubleTree Hotel in Little Rock Jan. 16-17. This event, which is open to youth in grades 9-12, coincides with the diocese's Mass and March for Life to follow on Jan. 17.
Led by the diocesan Youth Advisory Council (YAC), Weekend Extravaganza includes music, skits, prayer service and speakers that focus on right-to-life issues through a teen's perspective.
This year's speaker is Monica Kelsey. She was adopted at birth and was 37 years old before she learned the news that her birthmother became pregnant after being brutally raped and left for dead on the side of a road. She struggled to accept this news, but in time she was able to refocus her energy away from the "Why?" to "How can I take this gift of life that I've been given and make a difference?"
Kelsey, a firefighter and medic from Indiana, has been telling her story on radio programs, videos and pro-life conventions and rallies worldwide since 2011 and advocates for pro-life legislation to protect the lives of children conceived in rape.
On Jan. 17 the youth will celebrate Mass and join the 38th annual March for Life to begin at 2 p.m. The staging area for the march will be at Battery and Wolfe streets behind the State Capitol. Marchers will circle around the capitol and end at the Capitol steps where a brief program will be held including prayer and talks from religious and community leaders. For more information about Weekend Extravaganza, contact Trish Gentry at (501) 664-0340, 418.