Eveld to be ordained to diaconate May 19
Published: May 12, 2023
Bishop Anthony B. Taylor will celebrate the diaconate ordination Mass of Cody Eveld at 6 p.m. Friday, May 19 at St. Benedict Church on the grounds of Subiaco Abbey. Being ordained a transitional deacon is a major step toward priestly ordination. A reception will follow in Fuhrmann Hall. All are invited to attend. If unable to come, set up a notification on your phone to watch the ordination live.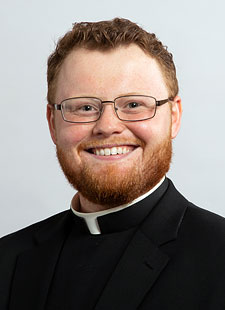 Guests are also welcome to attend a holy hour for Eveld at 4 p.m., May 19, at St. Benedict Church. During eucharistic adoration and vespers, prayers will be offered for him and an increase in vocations to the priesthood and religious life.
Eveld, 27, is the son of Douglas and Kelly Eveld of Charleston, and a 2014 graduate of Subiaco Academy. He will serve his first Mass as a deacon and preach his first homily on Sunday, May 21 at 7:30 a.m. and 10:30 a.m. at his home parish, Sacred Heart Church in Charleston.
In his 2022 vocation story he wrote, "It is in the presence of this Blessed Sacrament that the Lord has drawn me closer to his Sacred Heart. It is in the reception of this Blessed Sacrament that he has given me the strength to serve his people. This aspect of service is even more important as I prepare for ordination to the diaconate ... I ask for your continued prayers as I prepare for this step in my formation." Read the rest of his story.
Eveld is currently studying at St. Meinrad Seminary in St. Meinrad, Indiana in preparation for ordination to the priesthood in 2024. For more information, contact the Vocations and Seminarians Office at (501) 664-0340.