Divine Mercy devotion grows in jubilee year
Published: March 31, 2016
This year, Divine Mercy Sunday will be celebrated April 3. The celebration of Christ's resurrection continues with this feast, which recognizes that God's love and mercy endure forever and overcome any sin which separates us from him. This observance is especially importance as we continue to celebrate the Holy Year of Mercy.
The official Year of Mercy Door at Our Lady of Good Counsel Church in Little Rock will be open from 9 a.m. to 3:30 p.m. on Saturday, April 2 for pilgrims. Confessions will be available at 10 a.m. and 1 p.m. A special Mass for pilgrims will be celebrated at noon. Tours of the Diocese of Little Rock House of Formation (located near the church) will also be given. These special pilgrimage days are available on the first Saturday of each month through November. See our calendar for details.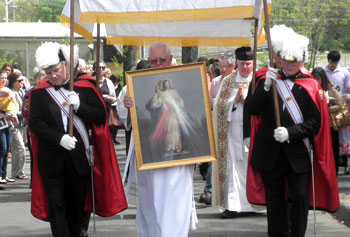 Bishop Anthony B. Taylor has allowed each deanery in Arkansas to have its own door of mercy April 2 only. For those who can't visit the Little Rock church, these jubilee doors have been temporarily established, said Father John Marconi, Year of Mercy Committee chairman.
Those passing through the doors and completing the requirements — going to confession, receiving the Eucharist and praying for the pope's intentions — can receive a plenary indulgence.
Deaneries that announced locations and schedules for their doors of mercy are listed below. If you don't see your deanery listed or are not sure which deanery your parish falls into, visit our map with list of parishes in each deanery with contact information.
West Ozark Deanery: St. Vincent de Paul, Rogers

, 8-11 p.m. Saturday

North Ozark Deanery:

St. Peter the Fisherman, Mountain Home, 6 a.m.-10 p.m. Saturday

Ouachita Deanery: St. Edward Church, Texarkana

, 9 a.m. and 5 p.m. Masses and confessions at the top of the hour from 8 a.m.-4 p.m.
St. Faustina Kowalska is the Polish nun who promoted the divine mercy devotion and was canonized by Blessed John Paul II in 2000. The divine mercy devotion began in the late 1930s by St. Faustina, who had a vision of Jesus where he asked for devotions to divine mercy. On Divine Mercy Sunday, parishes often host holy hours, which might include eucharistic adoration of the Blessed Sacrament, the Chaplet of Divine Mercy, Benediction, Praises of Divine Mercy, Litany of the Precious Blood, or other prayers and songs. Some churches also offer anointing of the sick and reconciliation.
More than 32 parishes in Arkansas will host holy hours for Divine Mercy Sunday on April 3. To see the holy hour schedule for your area, visit Arkansas Catholic. Also available is the regular confession times for parishes across Arkansas in English and Spanish.