Diaconate Ordination of Luke Womack
Published: May 19, 2016
Bishop Anthony B. Taylor preached the following homily at St. Mary Church in Hot Springs on Thursday, May 19, 2016.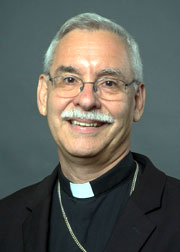 Bishop Taylor
Luke, three years ago, Pope Francis began his pontificate with the proclamation of "Evangelii Gaudium" ("The Joy of the Gospel"), which I am sure that you have studied in seminary.
In this remarkable apostolic exhortation, the pope calls for a "missionary transformation" (19) of the Church and he describes some of the crises we face in today's world — into which Jesus is sending you to serve today.
The ministry of preaching that you will exercise as a deacon is so important that the pope devotes 50 pages to teaching us how to improve our homilies, and elsewhere he emphasizes our obligation to bring the Good News of Jesus Christ to the weakest members of society: "the homeless, the addicted, refugees, indigenous peoples, the elderly who are increasingly abandoned" and migrants, for whom he exhorts "a generous openness." (210)
So Luke, like the rest of us, from this day forward, it will be your duty to do all in your power to bring about "a revolution of tenderness" (88), which is the life-changing fruit of the Gospel of joy!
Those who are most needy and most vulnerable have the greatest claim on us ... the very people to whom Jesus extended himself with great love and compassion.
In this document, Pope Francis touches on many areas in the world into which you are being sent where reform is urgent, including our economic system that is unjust at its root, the family and marriage, which are experiencing a profound crisis on many levels, and the fact that our Church is often insufficiently welcoming and seems too concerned about rules and procedures ... topics for another day, the document is 223 pages long.
Since today is a day of ordination, I would like to share with you a series of quotes from this document where the Holy Father speaks directly to us who are — or soon will be — clergy. These thoughts revolve around three words: missionary, merciful and Spirit-filled.
Missionary: "We cannot passively and calmly wait in our church buildings"... we need to move "from a pastoral ministry of mere conservation to a decidedly missionary pastoral ministry." (15)
"All of us are asked to obey his call to go forth from our own comfort zone in order to reach all the 'peripheries' in need of the light of the Gospel." (20) "'Mere administration' can no longer be enough. Throughout the world, let us be 'permanently in a state of mission.'" (25).
Merciful: "When we adopt a pastoral goal and a missionary style, which would actually reach everyone without exception or exclusion, the message has to concentrate on the essentials ... (35) and at its "basic core, what shines forth as the heart of the Gospel is the beauty of the saving love of God made manifest in Jesus Christ who died and rose from the dead." (36) Notice that it is the grace of God's mercy that must always be at the heart of the Gospel you proclaim.
Spirit-filled: "Jesus wants evangelizers who proclaim the Good News not only with words, but above all by a life transfigured by God's presence." (259) "No words of encouragement will be enough unless the fire of the Holy Spirit burns in our hearts." (261)
The most basic problem in today's world is that most people simply have not experienced God's love and his life-transforming mercy — not even many of us who call ourselves Christians ... because if we had truly experienced his love, no one would be able to silence our desire to share with others the great change that the Lord has worked in our life.
Luke, you are already a joy-filled person. Today the Lord sends you forth to proclaim his Gospel of joy as an ordained deacon. Pope Francis urges us to allow a spirit-filled, merciful, missionary spirit to form in us "a definite style of evangelization ... in every activity which you undertake. In this way, we can take up, amid our daily efforts, the biblical exhortation: 'Rejoice in the Lord always; again I will say: Rejoice'" (18; Phil 4:4).
So Luke, like the rest of us, from this day forward, it will be your duty to do all in your power to bring about "a revolution of tenderness" (88), which is the life-changing fruit of the Gospel of joy!