Diaconate Ordination of Keith Higginbotham
Published: May 18, 2017
Bishop Anthony B. Taylor preached the following homily at St. Anne Church in North Little Rock on Thursday, May 18, 2017. It is based on the following readings: Genesis 15:1-12, 17-18; 1 Peter 4:7-13; and Luke 22:14-20, 24-30.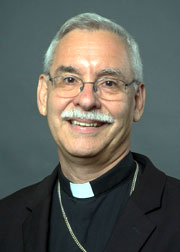 Bishop Taylor
Today is a historic day. As far as I can tell, this is the first ordination ever to take place in this former dance hall that has long been the home of St. Anne Parish.
Moreover, I always let those being ordained get to choose the readings for their ordination and Keith has chosen very nice readings that up to now I've never heard read at an ordination. But they are very appropriate and Keith has clearly put some thought into his choices.
In our first reading from Genesis, Abram — who, by the way, has made no promise of celibacy — laments that despite his best efforts, he has remained childless. God promises that if he puts his faith in God, God will give him descendants in great abundance, as numerous as the stars in the sky.
And of course the word "deacon" itself means "servant" and the service that a deacon offers emerges from prayer and is rooted in love.
Keith, on the other hand, will be making a promise of life-long celibacy today. He is putting his faith in God like Abram did, confident that God will give him descendants in great abundance too ... in his case, spiritual sons and daughters.
Elsewhere, St. Paul makes it clear that Abraham has many more descendants by adoption (through faith in Jesus Christ, spiritual sons and daughters) than he will ever have according to the flesh. And the same is true for us as priests. And that's the kind of fruitfulness that really matters.
In our second reading that Keith chose from the First Letter of St. Peter, the author is concerned to make sure that his readers are well prepared for Jesus' second coming, which he believes is imminent.
Hence the need to be vigilant in the three areas of Christian life where faithfulness is most important: 1.) in dedication to prayer — Keith will be promising to pray the Liturgy of the Hours; 2.) mutual love, which covers a multitude of sins; and 3.) in selfless, uncomplaining service of others.
And of course the word "deacon" itself means "servant" and the service that a deacon offers emerges from prayer and is rooted in love. So prayer, sacrificial love and service. These should be the traits of any Christian, but especially of us who are ordained ministers of the Church.
Peter also reminds us of the central theme of his letter: joy amid whatever suffering comes with faithfulness to Christ — so Keith, Peter is telling you to continue being the cheerful person you already are! Even in times of difficulty.
Your sense of humor will continue to serve you well. But after all, if Jesus suffered for us, shouldn't we be willing to suffer for him? And do so cheerfully. So as St. Peter says, when we preach, it should "be with the words of God" whose very nature is love — and that love should come through in our preaching. And when we serve, it should "be with the strength that God supplies, so that in all things God may be glorified in Jesus Christ."
And then we have our Gospel reading taken from Luke's account of the Last Supper, the first Mass, so to speak, when Jesus instituted the priesthood as well as the Eucharist. This reading, of course, points to the liturgical ministry that Keith will be exercising as a deacon and even more so next year as a priest.
But notice how quickly these newly ordained apostles (who we can now anachronistically call priests) get off track! Right after ordination, they get into an argument about which of them should be regarded as the greatest. Some were already angling to become monsignors! And so Jesus reminds them and us that we are called to service and that is where true greatness resides.
Keith, you've covered a lot of ground with the readings you have chosen. You have responded generously to the Lord's call to a life marked by prayer and devotion, to a life of joyful service in which you embrace the cross of Jesus Christ with sacrificial love, a life of celibate love for the sake of the Kingdom of God, with special concern for the weakest and most vulnerable among us, a life in which you foster the sacramental life of the people entrusted to your care.
You are a man of the Church! And I am confident that through you and your ministry many people will encounter the mercy and love of our Savior Jesus Christ!