Diaconate Ordination of Daniel Ramos
Published: May 20, 2017
Bishop Anthony B. Taylor preached the following homily at Immaculate Heart of Mary Church in North Little Rock (Marche) on Saturday, May 20, 2017. It is based on the following readings: Sirach 2:1-13; Acts 9:1-20; and Matthew 4:1-11.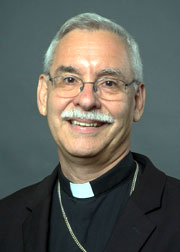 Bishop Taylor
When I saw the readings that Daniel chose for his ordination to the diaconate, I was both intrigued and edified. Intrigued because it is not common to choose the story of the temptations of Jesus for an ordination.
Edified because it was precisely with this that Jesus began his own public ministry. Edified because like Jesus, Daniel clearly understands that there are serious temptations, serious pitfalls that have to be faced and overcome in order to exercise public ministry faithfully.
Matthew draws a parallel between the history of Israel and the start of Jesus' public ministry. Both were tested by God in the desert, the Israelites for 40 years and Jesus for 40 days.
This gift of yourself will be both a sign of pastoral charity and an inspiration to it, as well as a source of spiritual fruitfulness in the world.
Both experienced hunger, but the Israelites forgot God's providence — they wanted bread but forgot that one does not live by bread alone.
They longed for prosperity (Deuteronomy 6:10-13) but in their frustration they rebelled, demanding miracles. Jesus on the other hand remained faithful, despite all the tests to which Satan subjected him, thus demonstrating his total submission to the will of God regarding both the mission the Father had sent him to accomplish, and how to go about doing it.
The crux of the temptations that Jesus faced was precisely regarding how to establish the Kingdom of God. Satan tried to trip Jesus up at the beginning of his ministry by proposing shortcuts that supposedly would enable him to avoid hardships and still accomplish his mission, doing wrong in order to achieve good, the ends justifying the means, namely: 1.) to misuse his power; 2.) to compromise his values; and 3.) to seek popular acclaim.
1.) Daniel, as an ordained minister, you will enjoy a great deal of power and influence. You will celebrate the sacraments, proclaim God's word and be invited into many homes by people who love the Church and hold you in high regard.
Never misuse that power and influence for your own personal gratification. Even though he was hungry, Jesus refused to use his power to turn stones into bread because the impulse to do so came from Satan.
Like Jesus, we are all tested with hungers of many sorts, including the hungers related to the chastity we experience as celibate men — the same celibacy that Jesus lived and which you will promise today. This gift of yourself will be both a sign of pastoral charity and an inspiration to it, as well as a source of spiritual fruitfulness in the world.
That doesn't mean it will always be easy, but Scripture assures us that God can be trusted to provide us manna from heaven to satisfy all of our needs.
2.) As an ordained minister there will be many things you will want to achieve in the Lord's service, but with that comes the danger of forgetting that how we go about accomplishing these things is really more important than the thing itself.
Satan tempted Jesus to compromise his values, worship him, and he'd be able to establish his universal kingdom right away, without having to face all the bother of his public ministry, not to mention the agony of the cross.
If — for instance — your parish has a building project, you may face that same temptation to compromise your values in order to achieve your ambition. Or some other ambition. So remember that "You shall worship the Lord your God, him alone shall you serve."
3.) And as a man with feelings, you may be tempted to worry more about winning people's admiration and approval than about saying and doing what faithfulness to the Lord requires. Satan tempted Jesus to throw himself off the parapet of the Temple in order to impress the crowd and gain prestige.
And ego-intensive liturgies can amount to the same thing as standing on a Temple parapet. As Scripture says, "You shall not put the Lord your God to the test." To him alone belongs the glory.
So, Daniel, do you still want to be ordained? Jesus was tempted in every way that we are but never sinned, and he will give you all the grace you need to overcome all trials: 1.) using your power and influence as God would want; 2.) faithful in how you go about your ministry; and 3.) seeking above all to please God in all that you do ... in every sacrament you administer as a deacon and later as a priest, in every homily you preach, and in every encounter you have with the people of God.