Celebrate Jesus' unending mercy April 23
Published: April 21, 2017
"Divine Mercy reaches human beings from the heart of Christ crucified. … Today, fixing our gaze with you on the face of the Risen Christ, let us make our own your prayer of trusting abandonment and say with firm hope: 'Jesus, I trust in You!'" — St. John Paul II, canonization Mass of St. Faustina Kowalska, May 1, 2000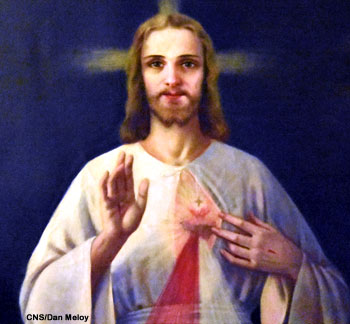 This year, Divine Mercy Sunday will be April 23. The celebration of Christ's resurrection continues with this feast, which recognizes that God's love and mercy endure forever and overcome any sin that separates us from him.
In the 1930s, Jesus appeared to St. Faustina Kowalska, a Polish nun, and directed her to promote his divine mercy worldwide. St. John Paul II canonized St. Faustina on May 1, 2000. Five days later the Vatican decreed that the Second Sunday of Easter would henceforth be known as Divine Mercy Sunday.
On Divine Mercy Sunday, parishes often host holy hours, which might include eucharistic adoration of the Blessed Sacrament, the Chaplet of Divine Mercy, Benediction, Praises of Divine Mercy, Litany of the Precious Blood, or other prayers and songs. Some also offer the sacraments of anointing of the sick and reconciliation.
More than 23 parishes in Arkansas will host holy hours for Divine Mercy Sunday this year. To see the holy hour schedule for your area, visit Arkansas Catholic. If a holy hour is not available in your area, consider observing the devotion on your own. Visit our eucharistic adoration schedule or confession times to participate in a parish near you.
---