Búsqueda #49 will be held Oct. 28-30
Published: September 7, 2022
To apply, download and return this form with fee to the address provided by Oct. 11. For more information, email Karla Alvarez in the Hispanic Ministry Office, or call her at (501) 664-0340, ext. 397.
Applications are now being accepted for Búsqueda #49, which will be held at St. John Catholic Center in Little Rock Oct. 28-30. Búsqueda will be presented in Spanish and include talks, videos, music, skits, prayer, small group discussion and more. The weekend begins at 6:30 p.m. Friday, Oct. 28 and ends with Mass Sunday, Oct. 29 at 2 p.m.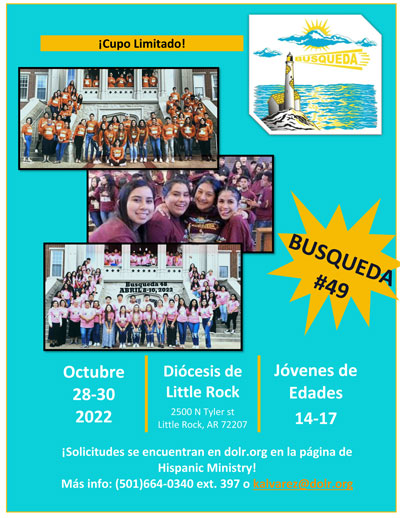 A $30 deposit is required with the application. The total cost to attend is $95, which includes lodging, meals, materials and t-shirt. Space is limited. No applications will be accepted after Oct. 11. Download and return the application form to the address provided.
The primary objective of a Búsqueda (Search) retreat is to awaken in Spanish-speaking youth (ages 14-17) the desire to be messengers of the good news of Christ to others. It is a method, used by other movements in the Catholic Church, to guide young people to a mature, Christian human growth, gaining knowledge of themselves and their relationships with God and others.
This event is sponsored by the Hispanic Ministry Office. For more information, contact Sr. Verónica Figueroa Sánchez, MCP, associate director of Hispanic youth ministry, at (501) 664-0340, ext. 364.