23rd Sunday in Ordinary Time, Year A
Published: September 6, 2014
Bishop Anthony B. Taylor preached the following homily about Father Warren Harvey at Our Lady of Good Counsel Church in Little Rock on Sept. 6-7, 2014.
Download MP3 file to your device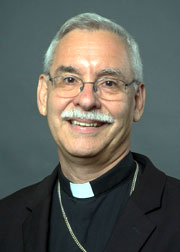 Bishop Taylor
One of my most difficult tasks as bishop is to have to come to parishes to tell them that their beloved pastor needs to take some time off for personal reasons. Happily in this instance, both Father Harvey and I agree to the need for him to address issues that have arisen in his personal life in a way that will be beneficial both to him and to the Church. Let me share with you a letter he has written to tell you about this.
My dear parishioners:

At the parish council meeting on last Aug. 19, I informed the Council that I will be taking some time away from our parish to concentrate on some personal issues.

As most of you know I work very hard at being the best priest I can be, often to the detriment of my personal health. I have reached a point in my life where I realize I MUST stop living this way. When my Mother was still living, I felt I had no choice but to work diligently to carry out my responsibilities as a devoted son and priest. Expending that much energy every day for several years has taken its toll.

I want to thank our bishop, Bishop Anthony Taylor, for his love, prayers and support for me as one of the many "extensions" of his pastoral leadership. When asked about my well-being, I wanted to say to the bishop that I am too tired to carry on. He very gently encouraged me, as a spiritual father, to not give in AND to not give up. I want you all to know that I have taken our bishop's advice VERY seriously. A priest friend of mine once told me that when we are ordained a priest, we begin our ascent up Mount Calvary. And just as Jesus fell in his ascent up that treacherous mountain he fell three times. Did Jesus give up? Did Jesus throw in the towel? No, he picked himself up and continued the journey! Even when he couldn't continue on his own, he allowed Simon to help him.

Right now in my journey, I need you, my parishioners, to be Simon for me, to help me carry my cross in order that I will continue to help you carry your crosses.

After consultation with Bishop Taylor, we have worked out a plan for me to be away from parish ministry for a while. I have been aware of these personal challenges for many years, and I believe in my heart that it is time that I really take seriously what it is going to take to get me to a level of living my life as a Catholic Christian and as a pastor, indeed your pastor, whom you need and are entitled to at this moment in the growth and development of our parish.

Before making plans to take a break from parish ministry I have made sure, with Bishop Taylor's help, our parish staff, and the councils that advise me, to be sure that the things we have begun in our parish will continue to move forward.

I feel extremely confident that the persons I have selected as my staff will do just that. I want you all to know that I am deeply grateful to all of you who have accepted my return to our beloved parish of Our Lady of Good Counsel with the warmest of greetings and a profound willingness and enthusiasm to assist me in moving our parish, with all its challenges, into the 21st century.

I want you all to know that the issues I am dealing with ARE NOT something that you, the wonderful parishioners of Good Counsel, have caused.

If you wish to write to me in my absence, please feel free to do so at your convenience. I can't promise you I will be able to respond to all of you, but I thank you in advance for thinking of me and offering prayers for my well-being.

My mailing address will be posted in the parish bulletin next week. I may have access to e-mails after my initial evaluation, but I'm not sure at this time to what extent. I ask that any phone calls to me in my absence be directed to our parish office. Carol Miller, our parish office manager, will be able to relay to me all messages that I should receive. These guidelines are imposed by the St. Luke Institute intended to insure my privacy as I seek to grow in wisdom and grace.

I ask that you keep me in your prayers. Please know that all of you will be in my thoughts and prayers each day as I journey forward through this process.
Yours in the Lord's service,
Father Warren Harvey, Pastor
Let me give you an idea of the time frame we are talking about and the arrangements we have made for your parish in the meantime. As Father Harvey disclosed in his letter, next week he will avail himself of the services of the St. Luke Institute. The length of time he will be there is not known at this time. The goal is to provide him everything he needs to help him deal with whatever he needs to deal with, including as much time as he needs.
In the meantime, your parish will be taken care of by the priests of Christ the King Parish who will cover weekend and weekday Masses, except Mondays, and be available for all the other ministry you need from a priest. Then starting Oct. 9, Father John Wakube — currently an associate pastor at Christ the King — will take up temporary residence here at Good Counsel until Father Harvey returns. He was the priest who covered Masses here the weekend before last. Parish activities will go forward as usual, including your parish building project.
I do ask two things of you: that you keep Father Harvey in your prayers and that you respect his privacy. He has the humility needed to really benefit from the plan available to him while he is away from your parish — and I thank God for that! Let us support him with our prayers and our love.