2023 MLK Memorial Mass to be Jan. 14
Published: January 10, 2023
Bishop Anthony B. Taylor will celebrate the 36th annual Diocese of Little Rock Martin Luther King Jr. Memorial Mass at 4:30 p.m. on Saturday, Jan. 14 at the Cathedral of St. Andrew in Little Rock.
During the Mass he will present the Daniel Rudd Award to a Black Catholic who is active in his or her parish and community during the Mass. All are invited to attend. This Mass is sponsored by the Diocesan Council for Black Catholics. For more information, contact Rosalyn Pruitt at (501) 375-9617.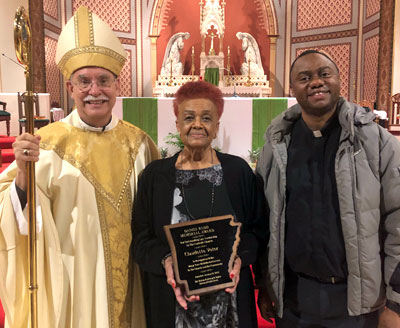 The bishop presented the Daniel Rudd Award to Claudette Votor, a member of St. Augustine Church in North Little Rock, during this Mass in January 2022. She was recognized because of her community and political activism and for serving in numerous roles at St. Augustine over the years. Read Arkansas Catholic to learn more.
Daniel Rudd was a former slave who lived in Marion, Arkansas, and started the first National Black Catholic Congress. He published the first Black Catholic weekly, the American Catholic Tribune, in 1886. He died in 1933.
"Today Jesus is calling us to do everything we can to open the eyes and hearts of our badly divided nation. And the best way to do this is by putting people in touch with the human side of the issues we face, which is the approach that Dr. Martin Luther King took," Bishop Taylor said during his 2022 homily. "It is one thing to talk about racism in the abstract, but quite another to go to the museum at Central High School and see photos of grim-faced teenagers enduring taunts as they tried to go to school and photos of terrified adults being attacked by dogs in Selma. By putting a human face on these events, these photos appeal to our hearts, which is where conversion occurs." Read his 2022 homily.