2021 Taste of Faith will go live Aug. 7 at 7
Published: July 30, 2021
Join us in forming our future priests by providing for their education now. Click on the button above to donate online to Taste of Faith. For more information, read our FAQ or email Dianne Brady, director of stewardship and development, or call her (501) 664-0340, ext. 391.
All are invited to watch the 2021 Taste of Faith: Virtual Edition live from Christ the King Church in Little Rock on Saturday, Aug. 7, 2021 at 7 p.m. on the new Taste of Faith website, the Diocese of Little Rock Facebook page or YouTube channel.
Normally Taste of Faith is an in-person dinner held four to five times a year across Arkansas to raise money for seminarian education. But these dinners were combined into one, livestream event in 2020 because of the COVID-19 pandemic. Arkansas Catholics responded generously by donating a record $635,000, which far exceeded the $500,000 goal. The money was used to pay tuition, room and board, health insurance and other needs for the diocese's seminarians. To educate one seminarian costs $36,000 per year.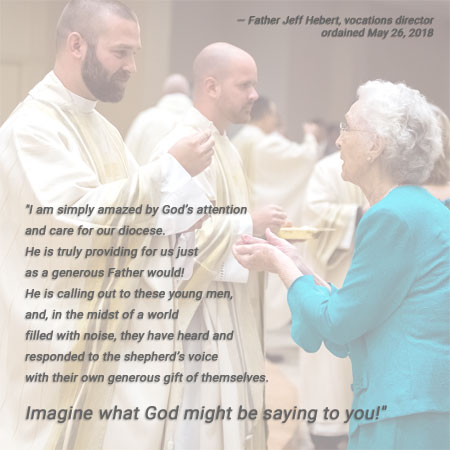 Msgr. Scott Friend, who served as vocations director for 16 years, is now pastor of Blessed Sacrament Church in Jonesboro. Father Jeff Hebert, assistant vocations director, was appointed to replace Msgr. Friend as the new director. He was ordained to the priesthood in May 2018.
This year, Taste of Faith will be livestreamed again combined with a small, in-person audience who will watch the live broadcast from Christ the King in Little Rock. This event will take the form of a late-night talk show featuring a cake bake-off, a cameo from Msgr. Scott Friend, interviews with seminarians and the chance to get to know Father Jeff Hebert, host of the show. And there are sure to be other special guests and surprises. So make sure and watch. You won't want to miss it!
"I have great news! Bishop Anthony B. Taylor ordained five men to serve you as priests in May," Father Hebert wrote in a letter mailed to Catholic households in July. "With 22 others to be ordained in the next few years, I am simply amazed by God's attention and care for our diocese. He is truly providing for us just as a generous Father would!" | Read the letter.
"He is calling out to these men, and, in the midst of a world filled with noise, they have heard and responded to the shepherd's voice with their generous gift of themselves. We need your help to form them into generous priests," he continued. "If God can so generously provide shepherds for his flock, then may all of us respond with our own generosity like these young men have."
Donors don't have to wait until Aug. 7 to support the seminarians. They can donate online now or mail in their donation to: Taste of Faith, Diocese of Little Rock, P. O. Box 7565, Little Rock, AR 72217. For more information, email Dianne Brady, director of stewardship and development, or call her (501) 664-0340, ext. 391.
---