2016 Mass and March for Life to be Jan. 17
Published: December 30, 2015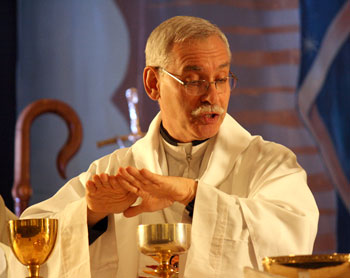 Bishop Anthony B. Taylor will celebrate the annual Mass for Life at 12:05 p.m., Sunday, Jan. 17 at the Cathedral of St. Andrew in downtown Little Rock. Prior to the Mass, a Rosary for Life will be held at 11:30 a.m. Anyone who has lost a child is invited to sign the Book of Innocents in their memory. Red roses will be placed near the altar to honor these children and their families during Mass.
Each year, this Mass is celebrated to mark the anniversary of the U.S. Supreme Court's Roe v. Wade and Doe v. Bolton decisions that legalized abortion in the United States. The event is an opportunity for Catholics statewide to come together and pray for an end to abortion.
A prayer vigil, in the form of eucharistic adoration, will be held from 6:30 p.m. Saturday, Jan. 16 to 8 a.m. Sunday, Jan. 17 at the Cathedral. Central Arkansas parishes have been assigned to pray at the Cathedral.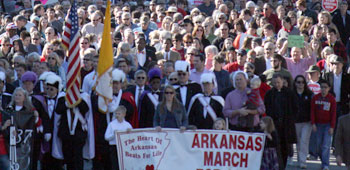 Following the Mass for Life, the 38th annual March for Life will begin at 2 p.m. The staging area for the march will be at Battery and Wolfe streets behind the State Capitol. Marchers will circle around the capitol and end at the Capitol steps where a brief program will be held including prayer and talks from religious and community leaders.
For more information about the Mass, call Anne Dierks at (501) 664-0340. To learn more about the March for Life, contact the Arkansas Right to Life at (501) 663-4237.
Complimentary chili and hot dogs will be served following the march by the Knights of Columbus Council #6253 at 6253 Camp Robinson Rd. in North Little Rock.