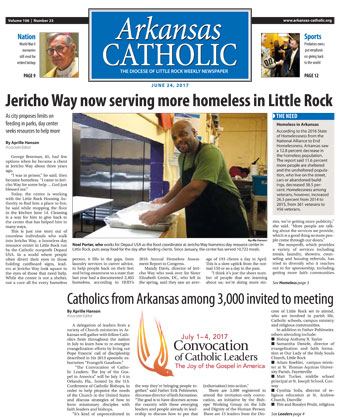 For 106 years, Arkansas Catholic and its predecessors have helped the bishops of Little Rock share the Word of God with the people of Arkansas. The award-winning weekly newspaper of the Diocese of Little Rock continues to offer you a wealth of information, education and inspiration through print and digital media.
Arkansas Catholic, which is published 46 times a year, publishes what is happening throughout the diocese, including parishes and schools, and comments on world events through a Catholic perspective. Build up your faith with tools designed to connect you with your Church and bring you closer to the Master Carpenter. Subscribe today.
The print edition is delivered to your mailbox every week. Subscriptions are only $26 a year ($24 for seniors). Subscription envelopes are available at the church or by calling (501) 664-0125. Choose from a one- to three-year subscription. Senior discounts and gift subscriptions are available.
Or you can get Arkansas Catholic online the same day it's published, anywhere you have an Internet connection. Online subscribers also have access to back issues and all articles are searchable. Log on to Arkansas Catholic and sign up for only $12.95.
---
Services
Arkansas Catholic Asks — Arkansas Catholic talks to newsmakers in the Catholic Church in Arkansas in this FREE podcast. Find the latest episode on your favorite app or wherever podcasts are found.
aSpire E-mail Newsletter — is a free e-mail newsletter covering the Catholic faith, Pope Francis and the Diocese of Little Rock. Brief, casual and entertaining -- it's news you might have missed, simple inspirations and useful tips for achieving your successful Catholic life.
Archives — Back issues of Arkansas Catholic from 1911 to 2001 are available online and are searchable.
Print Edition — Published 46 times a year and covers local, national and international Catholic news.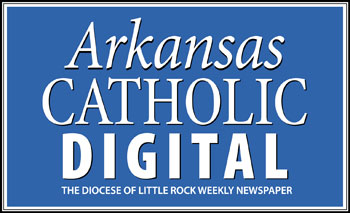 Digital Edition — The digital edition contains the entire contents of the print version, to read on your computer, tablet or smartphone. Subscribers also have access to the newspaper's archives from 2002 to the present.
Diocesan Directory — Published annually and contains contact information for every priest, religious and deacon as well as every parish, diocesan office, Catholic school, ministry, hospital and organization in Arkansas.
Website — Offers Arkansas Catholic articles, series, columns and News and Views from You online.
Social Media — Arkansas Catholic maintains pages on Facebook, Twitter and Instagram as well as the Diocese of Little Rock Facebook page and YouTube Channel.
Diocese of Little Rock Website — Offers more than 6,000 pages about the diocesan offices, staff, parishes, schools, clergy, religious, seminarians as well as educational articles, upcoming events, prayer book, columns, stations of the cross and much more.
---
Guardian Angels
Guardian Angels — Catholics like you — have brought decades of Catholic history in Arkansas to the Internet, free to everyone. Thousands of pages of fragile, irreplaceable newspaper archives from 1911 through 2001 have been digitally preserved and posted online. It's an exciting success story that prepares us to take the next step -- connecting with the next generation.

Increasing numbers of young adults are not engaging with the Church like previous generations. Even young people who faithfully attend Mass are getting their news in different ways. They are less interested in reading a printed newspaper, and more interested in digital news, e-mail, social media and websites that they access on their phones. Because of that challenge, your gift to the Guardian Angels Fund is needed to invest in new technology and other resources to help keep those young adults connected to the Church — and better serve all Catholics in the diocese.