2021 — II Theology
Alex Smith, St. Jude the Apostle Church, Jacksonville
Attends Assumption Seminary,
San Antonio, Texas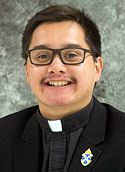 I started discerning the priesthood during my senior year in high school in Beebe. I was very active in the youth group for the Diocese of Little Rock and played sports in high school.
Through helping at my parish and diocesan youth ministry and talking to my pastor, Father Andrew Smith, about the priesthood, I felt the call. I felt the Lord encouraging me to be the hands and feet of Christ for other people. As a result, I answered the Lord's call to discern.
I studied philosophy at Holy Trinity Seminary in Dallas, completed my general studies at the University of Arkansas in Little Rock (UALR) and received my degree in philosophy through St. Gregory's University in Shawnee, Oklahoma. Now, I am studying theology at Assumption Seminary in San Antonio, Texas.
I have been blessed with the advantage of being able to interact with my fellow seminarians both away from and near the diocese. The fraternity of all my seminarian brothers helped me realize how very grateful I am for the unity we have together as a family.
Truly I say we are more than a fraternity of brothers: we are a family of brothers. We help each other with schoolwork, life and assist each other in becoming bicultural, which is necessary for evangelization and bringing forth love to all people in our diocese.
Getting together during the summer is a great opportunity for us to catch up and celebrate together the milestones of brother seminarians who become ordained to the transitional diaconate and priesthood. It brings joy to see how brother seminarians become "family men" to serve and minister the people who we call our family every day.
From north to south and east to west, I am very grateful to all the families of the diocese that have supported me and prayed for my discernment. I am thankful to the Knights of Columbus and their wives, the Serra Club and so many other Catholic families that believe and provide generously to vocations.
In fact, I am very grateful to the Knights for their support in helping me buy my first car. I use this vehicle to help others with their transportation needs, see my family and travel to evangelization assignments. I am also thankful for the support and enthusiasm of the children in parish, youth, parish religious education and confirmation groups as well as campus ministry students.
Those days when school can be grueling, I recall the great people of this diocese reassuring me, and it keeps me motivated to stay "all in." Before entering seminary, I wanted to run track in college. I wanted to be a collegiate athlete. But I realized something in seminary, Christ is calling me to play for a "bigger" team.
So I am thankful for the incredible journey and support from this diocese. It has been a beautiful journey and I would not have it any other way. There is certainly a lot of work to be done, and I am grateful and joyful to be able to work with the wonderful Catholics and the brother seminarians of this great diocese.
---