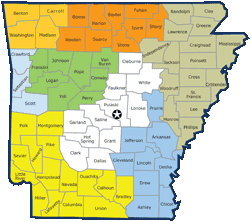 Diocesan Deaneries (Regions)
The Diocese of Little Rock encompasses the 75 counties that make up the state of Arkansas. These counties fall into eight regions called deaneries.
The deanery representative for each deanery is listed below. To get contact information for a deanery representative, click on his name.
To see a list of parishes in a deanery, click on the deanery name. This will also provide Mass times, directions and contact information for all the parishes in the deanery.
---
Dean: Msgr. Francis I. Malone, JCL, PA, VF
Christ the King Church, Little Rock
---
Dean: Fr. Alphonse Gollapalli, VF
Blessed Sacrament Church, Jonesboro
---
Dean: Fr. Norbert Rappold, VF
St. Peter the Fisherman Church, Mountain Home
---
Dean: Fr. Juan Manjarrez, VF
St. Barbara Church, De Queen
---
Dean: Msgr. Jack Harris , VF
Sacred Heart Church, Morrilton
---
Dean: Fr. Joseph Marconi, VF
St. Joseph Church, Pine Bluff
---
Dean: Msgr. David LeSieur, VF
St. Vincent de Paul Church, Rogers
---
Dean: Fr. John K. Antony, JCL, VF
Immaculate Conception Church, Fort Smith
---