2021 — III Theology
Ben Riley, Christ the King Church, Little Rock
Attends St. Meinrad Seminary, Indiana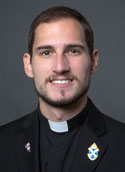 It is hard to believe that I am in my seventh year of seminary, and in less than a year I will be ordained a transitional deacon. In less than two years, I will be ordained a priest! The time has flown by, and I believe it will only go faster as I approach my ordination date.
I am often asked if I am excited. Honestly, while I am very excited, it hasn't really hit me yet. I think this is because my seminary formation, up until now, has been mostly spiritually and academically based. We do have ministry assignments, but these have been for short periods of time and only one time in a parish. It has been difficult to see how all the academic preparation will translate to ministry. At least, this is how I felt before working as a chaplain at Baptist Hospital in Little Rock.
As part of our formation, seminarians in their third year of theology, spend 10 weeks in a clinical pastoral education program. We work as chaplains in a hospital and take classes to study the finer points of pastoral care. This past summer, four of my brother seminarians and I worked at Baptist Hospital as chaplains. We knocked on patients' doors and offered ourselves for prayer, conversation and a listening ear.
It is primarily a ministry of presence. I learned so much about human suffering, hope and faith through my experiences with patients and their families. Working in the hospital made me much more excited about ordination and helped me put some of the things I have been learning in seminary into practice. It is so refreshing to finally be doing ministry instead of learning about it. I can see a glimpse of how the Lord will use me as his priest to serve his people, and it is very exciting.
I cannot thank you enough for your support in my vocation. It is our shared faith and your prayer that gives me the strength to knock on hospital doors and enter rooms, not knowing what to expect. Now when I am asked if I am excited for my upcoming ordination, I can honestly say, "Yes, I am so excited to soon be serving God and his Church in Arkansas."
If you wish to contact Ben Riley, please e-mail Maria Izquierdo-Roque in the Vocations Office or call her at (501) 664-0340. This article was published Sept. 17, 2019. Copyright Diocese of Little Rock. All rights reserved. This article may be copied or redistributed with acknowledgement and permission of the publisher.