I Pre-Theology
Steven Wilson, Holy Rosary Church, Stuttgart
Attends
Saint Meinrad Seminary

in

St. Meinrad, Indiana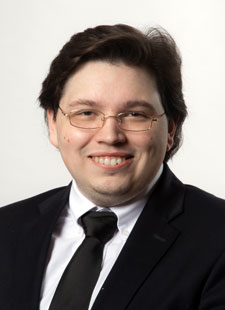 Before I became Catholic, I began substitute teaching. I was not particularly enamored with it. "It'll be different when I am a full-time teacher, though," I often told myself during this period. Full-time teaching is when things will be fulfilling for me, I thought.
However, when I did finally land that full-time position, I continued to be unfulfilled. I thought being able to share the things I was interested in would be joyful, but I more-often came away disillusioned. I heard my coworkers say things about how, "in the end, the sense of meaning and having an impact makes it meaningful," but I did not have this sense myself.
This was the period wherein I began to look at Catholicism. Despite my father's side being Catholic, I knew very little about the faith, and what I knew was through a Protestant lens. It all really began by accident (rather perfect for the Holy Spirit to act, in hindsight). It started with watching YouTube videos to laugh at those whom I considered to be the craziest Catholics I could find. This comedy period largely took up the first year.
At some point, though (I am not really sure when), I went from watching the "crazy Catholics" for entertainment, to being interested in what they were actually talking about. At this point in my life, I did not really consider myself to be a Christian anymore, but I became convinced that if Christianity was true, then Catholicism was the most likely flavor of Christianity to be true.
I soon found myself moving away from the crazies, and instead watching and learning from people such as Bishop Robert Barron and old videos of Archbishop Fulton Sheen. The draw to Catholicism and the desire to be Catholic slowly and steadily began to crescendo through 2019 until it did not matter whether I could intellectually accede to its teachings: I decided had to become Catholic on Aug. 17, 2019.
I reached out to the local parish in Stuttgart, Holy Rosary Church, completed an informal RCIA program with Father Andrew Hart, and was baptized and confirmed on March 30, 2020. Now, I am on the path to becoming a Catholic priest, something genuinely unthinkable not that long ago.
I am starting this path ultimately seeking fulfillment and meaning, the same reason I started teaching. I want to lead a satisfying life, not a grandiose one or necessarily an easy one.
I want my life to have purpose, and as I have discussed the topic with formators in the diocese and at the seminary. I have grown more confident in the idea that I can't think of what could possibly be more fulfilling, more life-giving than to play my small part in working with God to build his Church.
To bring him to his flock in the good times, such as when they're first getting to know God for the first time, and the bad, such as when their lives are upended by personal tragedy. Learning how to do this at the seminary and during ministry in the summer has been an amazing experience, and I'm excited to learn and experience even more as I continue where God is leading me.