II Theology
Quinton Thomas, Blessed Sacrament Church, Jonesboro
Attends Saint Meinrad Seminary in St. Meinrad, Indiana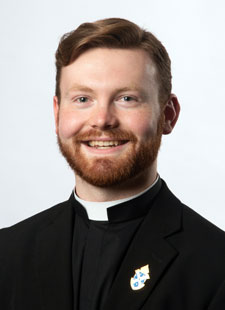 The story of how God has been calling me to priesthood and my discovery of that call is one of falling deeply in love with Jesus.
When I was very young, I didn't appreciate that there were many different influences on me and that I would have to sift through them one day.
At the age of 7 or 8, I thought I would be a surgeon. Of course, I didn't know you can work as a surgeon but a surgeon is never what you will really be.
But at my first Communion, things began to change. And this is where my story begins to be unique. Unlike most 8 year olds, I heard with clarity these bold ideas I was being taught: "This is Jesus' body;" and "Here is his blood." They seemed to me, if true, to demand of me all my devotion and faithfulness.
I remember that when I actually made my first Communion, from the steps of the altar back to my pew I felt an overwhelming and physical joy, an uncontrollable smile that I was embarrassed of because no one else seemed to be reacting that way.
So I put my hand over my face so only God could see it, aware that I had just received him, but unaware of the unique grace that it was for an 8 year old to understand and be moved by such a thing.
As I got older, my fervor grew. I used to altar serve every chance I had and go to daily Mass with my grandparents. To this day, whenever a situation makes me ask myself "Who am I?" I look back and see the 9- or 10-year-old me at Mass before school, receiving the Blessed Sacrament and stopping on my way back to the pew to kneel devoutly before the Sacred Heart of Jesus.
As time went on, I learned to go to Mass even when it meant getting a ride and going alone. And sometimes I would walk to church from school just to sit in adoration. These are the things the little me did, not because I understood their value and chose to pursue them— which would certainly be praiseworthy on my part — but because the Lord was drawing me and I couldn't help but be swept away.
It was during all this that, without any major paradigm shift that those who discover their vocation later in life experience, it first occurred to me to become a priest. I knew I loved the Lord and being in the church and, without any serious reflection, becoming a priest seemed like the natural consequence.
As a teenager, I battled with the lure of lesser but more apparent goods, but the Lord never left me, nor did he revoke that childlike love. I saw the opportunity to chase some dreams of mine, to travel the world or try to prove myself by academic achievement, but God wouldn't stop asking me "Who are you?" and I saw that those things aren't who I am. I am that kid kneeling before the Sacred Heart: a disciple.
And I just knew viscerally that I had to be who I am. The idea the Lord and many, many good people had given me of being a priest surfaced again and, with some help, I began to seriously discern or discriminate between all of the influences I was subject to and the many ways the Lord had been with me.
As a senior in high school, I realized for the first time just how odd it is that I had turned out this way and realized that it was only by God's deliberate decision to grant me those graces growing up. He gave me my experiences, the deep longing in my heart for life with him and to give my life to him, a love for the Eucharist, and a passion for bringing others there and for reconciliation, and he didn't do any of these carelessly.
I believe he put all those things there for me to draw me to his priesthood. And so I decided after graduating to take the next step of entering seminary to see if this was in fact what he wanted for me.
Now having concluded the first year of the configuration stage, studying theology and working to be ever more deeply united to the heart of Jesus, I feel confident that priesthood is how the Lord wants to use me and, for that reason, will be my happiness. I have grown in my knowledge of myself and the Lord, seeing more clearly the way he prepared the way for me to serve him as one of his priests.
And then next to all of this, I see that priesthood is the thing I long for. I recognize now far more than ever before that I am undeserving of such a gift, but that his grace is sufficient for me. That's why I requested to be admitted to candidacy for holy orders, and my request was granted!
As I continue in my formation, please pray for me, that I might love with the heart of Jesus. And know that I can't wait to serve you as one of the Lord Jesus' priests!