III Philosophy
Pedro Alvarez, Christ the King Church, Little Rock
Attends the House of Formation in Little Rock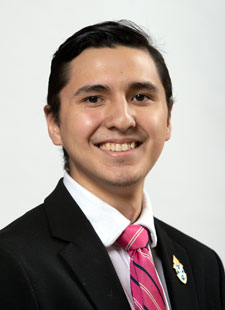 Like many other young men who feel they have a calling to the priesthood, I only realized God called me after the thought of it wouldn't leave my head, and a series of "coincidental" events (all my life) brought me inevitably to this stunning conclusion.
But, there was no real moment when I suddenly felt an overwhelming sense of security and knowledge of where I had to go and what I had to do.
Looking back from where I stand today, I notice the Lord calling me from a very young age (actually, since he formed me in my mother's womb, but oh well). I especially noticed his hand in the celebration of the Mass, particularly during the petitions.
I remember feeling a little jump inside of me every time the lector would say, "For hearts to be drawn to vocations to the priesthood, the diaconate and the religious life …"
I remember wondering why that happened to me and wondering why it caused such distaste and fear in my soul. As soon as the Mass would end, I would forget all about it until the following Sunday would come around. And so, it was for many years.
It was my junior year in high school when the Lord's call became uncomfortably louder. At Catholic High School in Little Rock, it was almost tradition that a guy would go off to the seminary every year. The entire school would be present when the candidate signed the papers alongside the bishop, finalizing the deal and being formally accepted into the seminary.
After the signing, the bishop would give a speech about being open and attentive to the voice of God and putting ourselves at his disposal. Although I don't remember his exact words, I remember I was shaken to the bone. Just like in Mass, I felt the little "jump", and I knew that wasn't good.
From that moment on, I engaged in an inner struggle with God, Satan and myself. It's important to mention that at this point in my life, I had already started wondering what the purpose of my existence was, and this question inevitably brought me to God. With this in mind, I'd developed an interactive relationship of sorts with him, and my norm was complete honesty with him and myself.
Well, after this question took me captive, I couldn't help but ask myself earnestly how much I was willing and able to give to God? I always knew the answer to it, but I wasn't ready to abandon myself in his loving arms yet.
Two and a half years later, while a freshman at UCA (University of Central Arkansas), I finally gave in and accepted his patient bidding after a lot of fighting and pain. This time was arguably the most excruciating time of my life, filled with desolation and dry perseverance.
All this was necessary and served as preparation for the immense joy and peace that would come after I accepted to follow him in the closest possible way — through the priesthood.
I am now in my third year of philosophy at the House of Formation in Little Rock where I continue discerning his will in my life. My deepest desire is to help catch the world on fire with the love of God through the priesthood. Thanks for your prayers, and God bless!