IV Philosophy
Joshua Osborne, St. Joseph Church, Conway
Attends the House of Formation in Little Rock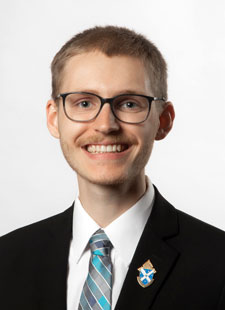 If someone had told me I would be a seminarian three years ago, I would have never believed them. I had grown up around the Church, but my lack of interaction with priests outside of Mass meant that I never seriously considered the priesthood or religious life.
Therefore, I did what seemed normal to me by going to college and starting a career. While at the University of Central Arkansas studying cybersecurity, I got involved with my campus ministry and local parish. Through this, I grew a special appreciation for the people and programs present in each Catholic community.
I found that many extraordinary fruits of the Holy Spirit are simply waiting to be received by those who approach the ordinary volunteer opportunities within the parish. Furthermore, I believe that God calls each of us to serve his Church in a special way that only we can. However, we must stay obedient to his whisper to receive this invitation.
For instance, several times in prayer while discerning my vocation the Lord would say to me "Patience. Everything will become clear soon enough." Admittedly, I would sometimes struggle with this patience, but I soon realized that time was not the only factor in my discernment. I would need to grow as well.
Our Lord always graciously prepares us for our endeavors before we even realize that we are about to enter the battlefield. This has been especially evident in my discernment. Looking back, there have been various seasons in which God has helped me increase my faith and trust in him, two things that would become vital when deciding to apply to the seminary. Reflecting on past avenues of growth has become an invaluable skill for me, and I believe that it is great for any member of the Church that wishes to increase his or her spiritual awareness.
Meeting priests within my diocese has also been an integral part of this journey. These priests have served as significant role models for me as they embrace their duties with joy and reverence. It has become clear to me that they live for someone close to their hearts, and it reflects in all that they do. Their lives help guide me to the sacrificial mindset that all priests should possess, one that can effortlessly abandon the heart in order to fully embody that of Christ's.
These gifts, of course, did not stop once I entered seminary. Throughout the past year, it has also been a pleasure to get to know my fellow brother seminarians as we journey on this path together. It is inspirational for me to see their growth, and it always encourages me to keep myself open to how the Lord wishes to form me personally.
Another great gift that I have experienced is the ability to visit and minister to parishioners from throughout the diocese. In seminary, I have seen the ways in which every person longs for love, a love that can only be fulfilled in a relationship with Christ. It has been an extreme blessing to hear the many stories of how our loving, personal God has led them to deeper involvement with his Church.
Their stories have increased my desire to help them continue to grow ever closer to Jesus. I pray that the Holy Spirit can guide me over the coming years so that I can be prepared to effectively carry out that mission as a diocesan priest.
If you wish to contact Joshua Osborne, please e-mail Georgina Pena in the Vocations Office or call her at (501) 664-0340. This article was published Aug. 10, 2022. Copyright Diocese of Little Rock. All rights reserved. This article may be copied or redistributed with acknowledgement and permission of the publisher.