2018 — IV Theology
Dc. Patrick Friend, Christ the King Church, Little Rock
Attends St. Meinrad Seminary, Indiana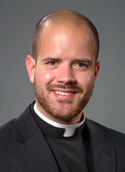 If you are considering the call to priesthood, let me save you some time. Rather than making pro's and con's lists, flipping pennies in fountains or worrying about what others would think, give God 15 minutes a day.
Those daily 15 minutes changed my life. In 2012, I was living my dream. I had a great job teaching English and chemistry at Catholic High School in Little Rock, a wonderful girlfriend, and a tight family, but there was something missing. There seemed to be a restlessness right under the surface. During Lent of that year, I decided to spend 15 minutes in the chapel at Catholic High and figure out what was going on.
Now, if I am being honest, I have known since I was in second grade that God was calling me to be a priest, but the allure of the world and everything it has to offer redirected my gaze by the time high school and college rolled around. When I hit Catholic High's chapel, the priesthood was still in the back of my mind, and I was terrified of it.
My prayer wasn't asking God what he wanted for me. I didn't want that. The best I could do was ask God to help me desire his will, and God being God, he answered my prayer. I slowly felt him changing my heart, softening it, so that I could slowly, but surely, come to the realization that the only way I was going to feel complete was to do what he created me to do.
Attending St. Meinrad Seminary in Indiana has been by far the best thing I have ever been a part of. I am a part of the best fraternity in the world, one that is built on the only thing that really matters: love for Jesus Christ.
The biggest transition in the past year has been realizing that I am no longer at the seminary solely because I felt like this was what God wanted me to do; I really and truly desire this for myself. The seminary has provided the time, space and formation that finally allowed me to see myself as God sees me, rather than the world asks us to see ourselves.
I had let my soul become something of a NASCAR suit, riddled with badges of various sponsors and misguided ideologies. The seminary has helped me, while slowly and sometimes painfully, to peel those badges off until the only thing left is Christ, and that has made all the difference.
Finally, I would like to mention the last, but certainly not least, motivator for being in the seminary: you — the people of this wonderful Diocese of Little Rock.
Your love, support and example of faithful service to the Lord floors me time and time again. I am filled with gratitude that I will, God willing, be able to serve you for the rest of my life as a priest. God bless you, and please continue to pray for us as we pray for you.
E-mail Dc. Patrick Friend
(Enviar mensaje de correo electrónico)