Wednesday, 24th Week in Ordinary Time, Cycle II
Published: September 17, 2014
Bishop Anthony B. Taylor preached the following homily during the Blue Mass at Our Lady of Good Counsel Church in Little Rock on Wednesday, Sept. 17, 2014.
Download MP3 file to your device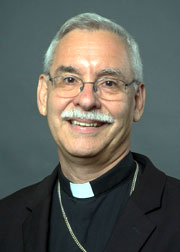 Bishop Taylor
Today we are gathered for our second annual Blue Mass in which we pray for all of you who are involved in law enforcement as well as fire fighters and first responders — for your safety — and to thank God for your dedication and for the sacrifices you make to keep us safe and help us when in trouble. I have a nephew who is a Texas state trooper and through him I have gotten a glimpse into the courage, discipline and patient professionalism required of you, as well as some of the risks you face daily in the exercise of your duties.
And then add to that all of the Christmases and Easters and other holidays when you're out on the streets working, while the rest of your family is gathered without you. So I think it is more than a mere coincidence that the first reading that our lectionary provides for us today just happens to be St. Paul's great hymn of love in 1 Corinthians 13.
We usually read this passage at weddings, but look at what its list of 15 characteristics of Christian love has to say to you who are involved in law enforcement, fighting fires and responding to emergencies. Don't worry, I'm not going to go through all 15 in detail — that would make for a very long homily. But the first two really stand out.
So today we thank you for your service and dedication, we pray for your safety and we ask God to shower special graces upon you.
Love is patient. The Greek word for patience refers to a man who has been wronged and has it in his power to take revenge, and yet does not do it. The Bible describes God this way. We have sinned against him, but rather than punish us, he feels compassion for us. He sees the hurt inside of us that is the ultimate source of our ugly behavior. And that same patience is required of you in the course of your daily duties. We may call it professionalism, but this patience is actually a kind of love.
Love is kind. I know that many law enforcement, fire-fighting and emergency response situations require you to assume a stern appearance so that those involved will take you seriously, helping you to maintain control of the situation. But if you remain kind on the inside, your goodness will shine through without undermining the seriousness of your work. If kindness is missing, people may misinterpret your intentions and motives, sometimes with disastrous results — could that not have been part of the problem in Ferguson, MO.? We may call it productive of good community relations, but this kindness is actually a kind of love.
Love is not jealous — including when it comes time for promotions. Love is not pompous or inflated — your uniform and authority does not set you above other mortals. Love is not rude — even when treated rudely. It does not seek its own interests, it is not quick-tempered, it does not brood over injury, it does not rejoice over wrongdoing but rejoices with the truth.
In other words, love is very demanding. It is a tall order. But it is also what we expect of you, and I am sure it is also what you expect of yourselves. So today we thank you for your service and dedication, we pray for your safety and we ask God to shower special graces upon you, so that you will be able — in St. Paul's words — to "bear all things, believe all things, hope all things and endure all things" because, after all "love never fails."