Thursday, 17th Week, Ordinary Time, Cycle I
Published: July 30, 2015
Bishop Anthony B. Taylor preached the following homily at the 20th Regional Assembly of the Apostles of Jesus at Sacred Heart Church in Charleston on Thursday, July 30, 2015.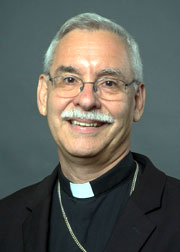 Bishop Taylor
This is the largest gathering of missionaries ever to celebrate Mass together in the state of Arkansas, which is one of the missionary dioceses of the United States. You have gathered for this 20th Regional Assembly of the Apostles of Jesus serving in the United States and have focused especially on the theme of renewal and reconciliation: renewing your commitment to God and to one another, especially during this Year of Consecrated Life.
I know that your custom is to celebrate this Mass on Founder's Day, July 27, the anniversary of the death, 20 years apart, of your two founders, Bishop Sixtus Mazzoldi and Father John Marengone. So I really appreciate your willingness to postpone this Mass to today so that I could attend.
Our joy today is even greater because of the presence of five priests and two sisters celebrating their silver jubilee: Apostles of Jesus Father Ben Vincent Awongo, Father Isidoro Munishi, Father Nestorio Agirembabazi, Father Simon Kimaryo and my dear friend Father Jude Shayo with whom I worked and even vacationed in Oklahoma, and Evangelizing Sisters of Mary Sister Dorothy and Sister Bibbiana.
Jesus goes on to affirm that the challenges we face are only temporary, lasting only until the Kingdom of God is manifest in all of its fullness.
I have worked with Apostles of Jesus in Oklahoma and now in Arkansas for at least 15 years, and I want you to know how grateful I am that the Lord has sent you to us. I appreciate your service, value your witness to the Gospel and am inspired by your dedication.
You can see the evidence right here before your eyes: You know Father Patrick Watikha, AJ, to have worked hard to make this regional assembly a success, but I know him as a faithful, zealous shepherd of this parish — a minister of renewal and reconciliation, right in line with the theme of this gathering.
And I can say more or less the same thing of the other Apostles of Jesus with whom I have worked, including Father John Wakube, AJ, and now the recently arrived Father Stephen Mallenga, AJ, who are also serving in Arkansas.
In the Gospel you just heard, Jesus addresses something that we find in practically every ministry: the presence of positive and negative elements in every apostolate in which we are engaged. Our ministry is like a net thrown into the sea that collects good fish and bad fish, and it is our job to haul that net to shore, to minister to everyone, good and bad alike, trusting that in the end God will sort it all out.
It is for us to haul that net to shore, to cast that net as far as we can reach; "to the peripheries" in the words of Pope Francis. When Bishop Mazzoldi and Father Marengone founded your order to be the first missionary order from Africa, it was precisely to be a missionary order, not a stay-at-home order. And isn't it true that the positive and negative elements are not only "out there" but also "in here" — places inside ourselves that need renewal and reconciliation so that we will be able to bring that renewal and reconciliation to others more effectively.
Jesus goes on to affirm that the challenges we face are only temporary, lasting only until the Kingdom of God is manifest in all of its fullness. But until that day comes, it is crucial that we persevere amid all the trials that come our way. That's what your founders did.
In the 47 years since your founding, the Lord has blessed your community with many holy, zealous vocations. You are engaged in pastoral work in more than 60 apostolates in Africa, Europe, Australia, Cuba and in more than 20 states in the United States — in parishes, hospitals, nursing homes and universities.
As you prepare for your 50th anniversary in 2018, I remind you that in 2008 you celebrated your 40th anniversary with the theme: "I Will Be With You Always" from Matthew 28:20. It was with this assurance that Jesus commissioned his Apostles to go and bring the Good News to the ends of the earth, and you have journeyed to the ends of the earth, to a land unknown in Jesus' time to do just that.
You are missionaries called to continue the mission of Jesus, so that all the fish that you collect in your net — your parish, your apostolate — "may have life and have it in abundance" (John 10:10).