Support our retired priests on Christmas
Published: December 21, 2020
The annual Christmas collection is the primary source of income for the Clergy Welfare Fund, which supports retired and infirm priests of the Diocese of Little Rock. This special collection will be taken up during all Masses at Catholic parishes in Arkansas on Christmas Eve and Christmas Day.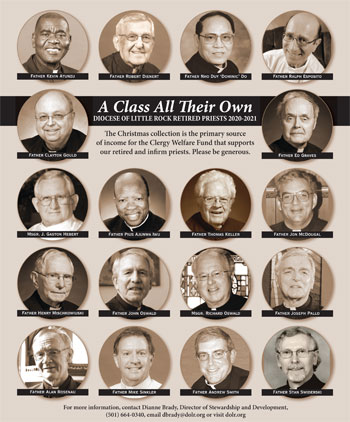 "Most of our priests work well into their 70s and beyond, caring for the spiritual life and welfare of their people, and there are many nearing retirement," explained Bishop Anthony B. Taylor in a letter to be read at all Christmas Masses. "They have given us the gift of their hearts and their lives of service and dedication; let us give them the gift of assurance that their retirement days are spent with dignity and care."
The Clergy Welfare Fund supports 18 retired priests. Donations to this collection would support their needs and help build the fund for the future.
The bishop also asked Arkansas Catholics to pray for an "increase in vocations to the priesthood in our diocese, and for happy and healthy retirement for those who have served us so well throughout the years. Pray also for those priests in active ministry who deserve our support, encouragement and care."
"I pray daily for you and your loved ones. May you receive the peace and joy of Christ this Christmas season and every day of the coming year," he added. For more information, contact Dianne Brady, director of the Stewardship and Development Office, at (501) 664-0340.