Solemnity of the Immaculate Conception 2014 — Mount St. Mary Academy
Published: December 8, 2014
Bishop Anthony B. Taylor preached the following homily at Mount St. Mary Academy in Little Rock on Monday, Dec. 8, 2014.
Download MP3 file to your device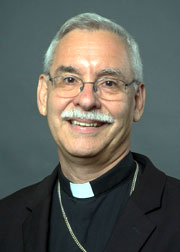 Bishop Taylor
When I was your age there was a show on TV called "Mission Impossible." Have any of you seen it in re-runs? Peter Graves played secret agent Jim Phelps, who received his instructions on an audio-tape that would self-destruct after he heard it. He was given seemingly impossible assignments and risked his life for America in every episode, yet nothing was really impossible for Mr. Phelps, our hero.
Things often turned out differently than planned, but he always overcame any setbacks and saved the Western World, all within a single episode. And of course he did so twice as fast as Tom Cruise did in his later "Mission Impossible" movies.
Many of the events leading up to the birth of Jesus sound like a whole series of mission impossibles. Today's feast of the Immaculate Conception: Mary was preserved from sin — the effects of original sin and personal sin — right from the moment of her conception. For Joachim and Ann (Mary's parents) this was impossible. But nothing is impossible with God.
Pope Francis said: "Women have an ability to give life and tenderness that we men don't have." This tenderness that you can offer is very much needed in today's Church and today's world.
Then the annunciation: the angel Gabriel told Mary that though a virgin, she would conceive a son. And not just any son, but the Son of God Most High. The Messiah whose reign would be without end. How could this be?For a simple woman to become the mother of God, the mother of her creator, was logically impossible. But nothing is impossible with God. Moreover, Mary's elderly aunt, Elizabeth, thought to be sterile, was now in her sixth month of pregnancy. Mary was astonished, so the angel went on to remind her that "nothing is impossible with God." At which point Mary responded: "I am the maidservant of the Lord. Let it be done to me as you say."
God had a plan for Mary, but still she had open her heart to what God was asking of her. She could do this because she was a woman of prayer who wanted to do God's will, and now that she knew what that was, she was willing to take the risk of saying "yes!" God has a plan for your life as well. God has given you everything you need to fulfill his plan for you — gifts of intellect, an excellent education — but like Mary, you have to say "yes" too for this to make a difference.
Pope Francis has declared 2015 to be the Year of Consecrated Life, a year of gratitude for the gifts that religious — like the Sisters of Mercy — give so generously to the Church. Pope Francis said: "Women have an ability to give life and tenderness that we men don't have." This tenderness that you can offer is very much needed in today's Church and today's world.
And so this is also to be a year for challenging young women like yourselves to open your hearts to the possibility that the Lord may be calling you to religious life as well. Religious vocations are very different from a vocation to the diocesan priesthood. We have members belonging to 25 different religious communities serving in Arkansas, each of which has its own vocations director, its own charism, its own vision and its own way of doing things.
This can be very confusing to a young person feels called to religious life. So that you can learn more about a religious vocation, we will be having a "Come and See" weekend for young people like yourselves the weekend of Jan. 3-4. For more information, contact Sister Joan Pytlik, our minister for religious, or check it out on our diocesan website: www.dolr.org. Our religious have long been ministers of healing, education and welcome to all people — which today we need more than ever.
All of the folks I mentioned at the beginning of this homily were told that nothing will be impossible with God, but they aren't given the details of how this will happen. In order to trust God's providence we have to nurture our relationship with his Son. That means a constant prayer life, and it means that we will have the grace to live each moment if we choose to do God's will.
The seniors here when they started as freshman maybe wondered at moments if they would make it. The problem we humans have is that we want to know every detail and take the way that makes us most secure. If Mary had needed to know every detail, she would have said no to God, since doing His will means we rely on Him without knowing for sure all the details.
God is calling each one of you to something, but what he is calling you to is not what will make you feel most secure, get you to retirement faster, or bring you the least problems. He's calling you to follow his Son. Open your heart to the Lord and he will show what he has in mind for you. He will show you how to live for something bigger than yourself. He will show you how to make a difference not only in your own life, but also in the lives of others.
And now the time has come for the Lord to call some of you to serve him as a religious sister or nun. The time has come for a rebirth of female religious vocations in the life of the Church. All of you who are Catholic should at least consider it. You'll never know what you are really created to be unless you at least begin to talk with Jesus in prayer. All of you will make the most important decisions of your life in the next coming years.
Don't pick just what's safe, because that means your decisions are based on fear. Open your heart to God who makes the impossible, possible for us. So, are you a woman of prayer? If not, how are you going to know what God wants you to do with your life? Are you afraid to open your heart to the possibility that God may be calling you to religious life? Isn't courage one of the values we seek to live by here at Mount St. Mary?
Mary was afraid too, but the angel told her, "Don't be afraid, Mary, for you have found favor with God." When Mary hesitated, the angel reminded her "nothing is impossible with God." Mary said: "I am the servant of the Lord. Let it be done to me as you say." Today's feast reminds us that nothing is impossible for God and that we too can respond as Mary did — whatever the Lord's call to us may be!