See plight of migrants in birth of Jesus
Published: November 26, 2018
Jennifer Verkamp discusses her tour of the U.S. southern border with Mexico when children were being separated from their parents in the Arkansas Catholic podcast above on Nov. 6, 2018. She also explains the immigration process, addresses complaints about undocumented immigrants and more. Click on the play button to listen.
The following article was originally published in Catholic Charities Connections, a special section of Arkansas Catholic, on Nov. 24, 2018.
By Jennifer Verkamp
Director, Catholic Immigration Services, Little Rock
I have had the privilege to work with people from different countries. Most of us who live in the U.S. have heard of the horrific journeys endured to arrive here, primarily from Central American countries and Mexico. These challenging journeys raise the question: How could anyone take such a risk to come to our country? What would make someone chance everything by migrating alone or with their families, when they could possibly even lose their lives trying?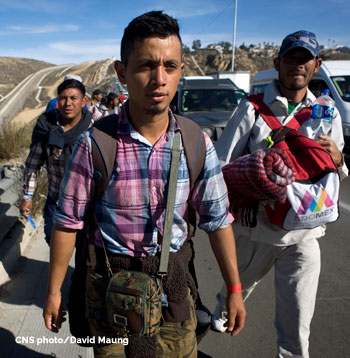 A group of about 350 Central American migrants walk along the
highway toward the beach Nov. 13, 2018 after arriving in Tijuana,
Mexico. The group split from and advanced ahead of a larger
caravan making its way to the border.
I've grappled with this for a long time. I've come to the conclusion that I will probably never fully understand, because I have never lived an immigrant's reality. To try to understand, I've begun simply to learn what are the root causes of migration. What are the "push factors," meaning a reason for someone wanting to leave their country?
What are the "pull factors," which is why someone would want to move to a new country? According to the U.S. Conference of Catholic Bishops, a push factor could be if an individual is faced with persecution, violence and war. Their pull factors would be the promise of safety, stability and freedom in another country.
Another example is if someone is living in extreme poverty, then they would be pulled by possible higher wages and job prospects. We can even consider environmental problems such as pollution, crop failure and natural disaster, which would pull someone to migrate to find food availability and a better environment. Finally, people can live somewhere with push factors like limited opportunities, lack of services or family separation. They would be pulled by a better quality of life, availability of services and family reunification.
Even when knowing about push and pull factors, I struggle at times with considering how these factors can be someone's reality. What does that really look like? Again, I will never know completely, but I do have an idea, because as mentioned before, I have had the privilege to interact with many from other countries. I have heard personal accounts of the young man from El Salvador who is terrified to return to his country due to the threat of losing his life if he does not join a gang.
Identify the push and pull factors in the story of Jesus as well as other migrants and then begin the journey of understanding the reality some might face and why they'd want to migrate to the United States.
I have spoken with women from Haiti who suffered from hurricanes and earthquakes, who simply cannot rebuild their lives in Haiti. I have even spoken with a man who wants to provide for his family and give his children an education, but makes only a few dollars a day in Guatemala. He says he only sees the possibility of providing basic needs if he makes the harsh journey to the United States.
Take the time to listen to immigrant stories. To begin to understand, try to find someone to ask their story or do a quick search online. Another idea with the Christmas season quickly approaching would be to read, ponder and pray with the story when King Herod threatens to kill all boys around the age of 2, but Joseph and Mary flee to Egypt with Jesus to save his life.
Identify the push and pull factors in the story of Jesus as well as other migrants and then begin the journey of understanding the reality some might face and why they'd want to migrate to the United States. It does help with understanding and softening hearts as it did mine, but it takes time and persistence with graces from God.