Rite of Election 2021
Published: February 21, 2021
Bishop Anthony B. Taylor preached the following homily during the Rite of Election for those participating in the Rite of Christian Initiation of Adults (RCIA) process at St. Vincent de Paul Church in Rogers on Saturday, Feb. 20, 2021, and Christ the King Church in Little Rock on Sunday, Feb. 21, 2021. It is based on John 1:35-42.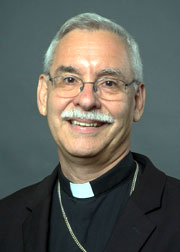 Bishop Taylor
In the Gospel you just heard we have the vocation story of Jesus' first two disciples: Andrew and another disciple who must be John the Evangelist himself because this evangelist remembers Jesus' first words to them: "What do you seek?" This is the same question I ask you who seek to become a disciple of Jesus today: "And you, what do you seek?"
Andrew recognizes that Jesus is the Messiah after spending only a couple of hours with him. Even today, spending time with Jesus is fundamental for recognizing him and putting our faith in him.
And then what does Andrew do next? He brings others to Jesus, beginning with his brother Simon whom Jesus renames Peter, thus giving him a new identity, a new vocation and a new mission in life.
And the same is true for you who today become members of the elect, you who seek to enter the Church and thus become a disciple of Jesus today. What are you looking for? Salvation! Whom do you seek? Jesus, our Savior!