Pray, act to respect life in events in January
Published: January 13, 2020
Father John Connell, vicar general, will celebrate the annual Mass for Life Sunday, Jan.19 at noon in the Wally Allen Ballroom at the Statehouse Convention Center in Little Rock. This event, along with the Hearts for Life Conference, Weekend for Life and Eucharistic Procession for Life, are being hosted by the Diocese of Little Rock to mark the anniversary of the U.S. Supreme Court's Roe v. Wade and Doe v. Bolton decisions that legalized abortion in the United States in 1973. Everyone is welcome to come and pray together for an end to abortion and for all life, from conception to natural death, to be protected and respected.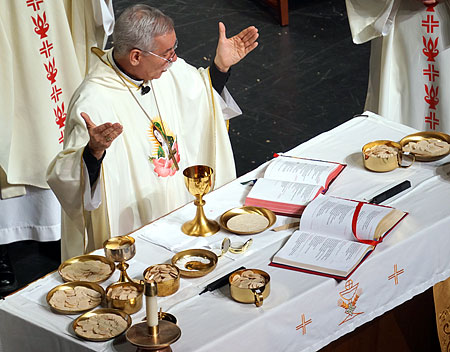 In preparation for the Mass for Life, parishes across Arkansas are invited to offer a Vigil for Life with adoration of the Blessed Sacrament beginning Saturday evening, Jan. 18 and continuing through Sunday morning, Jan. 19. Then, at 10 a.m., everyone is invited to take part in the Eucharistic Procession for Life. It will begin at the plaza in front of the DoubleTree Hotel and process through Riverfront Park and end at the Statehouse Convention Center in time for the Mass for Life at noon.
After Mass, join the 42nd annual March for Life, which is sponsored by Arkansas Right to Life, at 2 p.m. It begins between Battery and Wolfe streets on West Capitol Avenue and goes to the State Capitol steps, where prayer and talks will be given. The keynote speaker will be Ryan Bomberger, founder of the nonprofit Radiance Foundation in Virginia.
For more information about the eucharistic procession or Mass, please contact Catherine Phillips, director of the Respect Life Office, at (501) 664-0340, ext. 326, or learn more by reading Arkansas Catholic. To learn more about the march, contact Rose Mimms, director of the Arkansas Right to Life, at (501) 663-4237.
Prior to these events programs for youth and adults will be held that provide an opportunity to go deeper into the Church's teachings on the life and dignity of the human person. Both conclude in time for participants to take part in the eucharistic procession, Mass and march. The Weekend for Life is an overnight "lock-in" for high school students that includes a pro-life speaker, praise and worship music, prayer, skits and a dance. It is sponsored by the diocesan Catholic Youth Ministry Office. For more information, contact Liz Tingquist, director, at (501) 664-0340, ext. 333.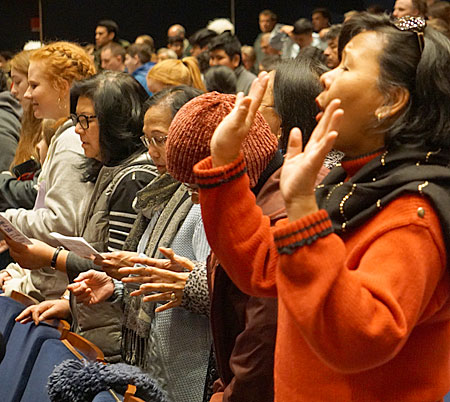 The Hearts for Life Conference for adults offers pro-life speakers, time for prayer and inexpensive and convenient lodging for out-of-town participants the night before the eucharistic procession and Mass for Life. Children are welcome to attend with their parents. This event is sponsored by the diocesan Respect Life Office. For more information, contact Catherine Phillips.
For those unable to attend these events, the U.S. bishops' Committee on Pro-Life Activities is sponsoring the Nine Days for Life campaign from Jan. 21-29. This is a multi-faceted novena for the respect and protection of every human life. Each day, a different intention, in English or Spanish, is accompanied by a short reflection, suggested actions, and related information. To have these sent to you automatically, subscribe to receive the novena and daily text messages. An app is available in English and Spanish. Or follow this event on Facebook. Another option is to watch the opening Mass of the National Prayer Vigil for Life on EWTN and CatholicTV at 4:30 p.m. (central time) Thursday, Jan. 23.
---