Permanent deacons to recommit service
Published: May 6, 2019
The Minister to Deacons Office at the Diocese of Little Rock is hosting three deacon recommitment Masses in Little Rock, Rogers and Jonesboro for deacons and their wives that include continuing education this spring and summer.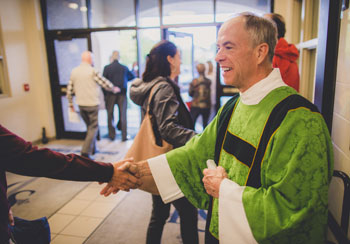 Bishop Anthony B. Taylor celebrated the first Deacon Recommitment Mass at Blessed John Newman University Parish in Jonesboro on Sunday, March 31. He will celebrate the second at St. Vincent de Paul Church in Rogers on Sunday, June 23 and the third in Morris Hall Chapel on the grounds of St. John Catholic Center in Little Rock on Saturday, July 20. A reception will follow each of these Masses. All deacons currently serving in the diocese and their families are encouraged to attend.
In addition Father Erik Pohlmeier, diocesan director of faith formation, is providing continuing education for the deacons on the topic of responding to today's challenges in sharing the faith. For more information, e-mail Susan Padgett or call her at (501) 664-0340, ext. 397 in the Minister to Deacons Office. To learn more about permanent deacons in our diocese, visit the Deacon Directory or read the History of the Diaconate in Arkansas.