Junior High Spectacular to host Popple
Published: October 5, 2015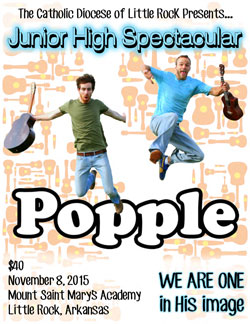 The annual Junior High Spectacular will be held Sunday, Nov. 8 at Mount St. Mary Academy in Little Rock. This event is open to youth in grades 6-8. This year's presenters are Kyle Heimann and Dan Harms, who make up the acoustic, humor, rock duo Popple. They will focus on theme: "We are One in His Image."
In addition to this presentation, the daylong program will include praise and worship, lunch and Mass. The cost is $40 per person. Scholarships are available. To apply, download the registration form.
The deadline to register is Oct. 16. To register, download and return the registration form to diocesan Catholic Youth Ministry Office. For more information, contact Tricia Gentry at (501) 664-0340, ext. 418.
Catholic Youth Ministry responds to needs of young people and encourages the sharing of their unique gifts with the larger community.
Efforts are directed at fostering the total personal and spiritual growth of each young person and drawing young people to responsible participation in the life, mission and work of the faith community. To learn more, see Events and Services.