Jubilee Celebration for Sister Marilyn Doss, OSB
Published: October 13, 2014
Bishop Anthony B. Taylor preached the following homily at Holy Angels Convent in Jonesboro on Saturday, July 12, 2014. The homily is based on John 17:20-26.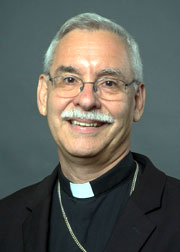 Bishop Taylor
Your community has a distinctive habit which functions as a sort of uniform which identifies you as Olivetan Benedictines — you're dressed alike; an external similarity. But unity is not the same as uniformity. Unity refers to an internal bond where uniformity refers to an external likeness. Unity requires cooperation; it demands listening, submission and obedience, and cannot occur without love — the love about which St. John refers in our second reading today, which Sister Marilyn chose for this her silver jubilee.
This reminds me also of St. Paul's beautiful analogy of the human body. The individual parts of your body are of necessity different one from another, they are not uniform ... but they do form a unity, they are all united into a single physical being. The body is healthy when the various organs work together — and ill when they don't. And for a religious community, love is what binds the whole body together.
In the Gospel you just heard, Jesus prays for the unity of his followers: "May they all be one." Notice that Jesus' doesn't pray for uniformity among his followers. Indeed, quite the opposite ... he explicitly intends that there be diversity in his Church, not uniformity. His Church will embrace people of every ethnicity and culture and language. People of every imaginable temperament, tastes and personal history. Notice even among the 12 Apostles: Matthew was a tax collector, an agent of the Roman government; Simon the Zealot belonged to an anti-Roman terrorist group; yet in Jesus they were united ... bonded to Jesus, they were bound to each other.
Jesus uses his own relationship with the Father as the model for the love and unity that should characterize our lives.
The same is true in this convent — each of you is unique, which far from being a source of division, should be instead a means of challenging you to deeper love ... and indeed the unity that Jesus prays for in today's Gospel occurs only in the context of love and respect. Jesus uses his own relationship with the Father as the model for the love and unity that should characterize our lives. Jesus says: "May they be one in us as you are in me and I am in you ... so that the love with which you loved me may be in them and so that I may be in them." This unity and love will help the world come to believe: "so that the world may believe that it was you who sent me."
This unity for which Jesus prays — and which we celebrate on this day of Sister Marilyn's Jubilee — is both God's work and the fruit of human effort. Indeed, this touches on the very nature of God and the very nature of the religious vocation of each member of this community. Fundamental to our belief in the Trinity is that God is love. Since love only exists in relationship, God must have multiplicity at the center of his nature (you can't love by yourself or just in the abstract), yet since all love leads to union, God must have unity at the center of his nature.
Thus God is three persons in relationship with each other, yet one God united in his very essence, which is love. The parallel which Jesus wishes to draw in today's Gospel is that our lives should be characterized by love too, and that the relationship of the many believers in Christ should be so full of love that the whole Church becomes one in love. Indeed, that is the fundamental charism of the religious life.
The unity Jesus prays for in the Church is something we dream for and to which as vowed religious you are called to give special witness. One of the most gratifying things about the Catholic Church in Arkansas is our unity amid diversity, which you religious do so much to promote — despite all the challenges that sometimes arise in community life.
As we honor Sister Marilyn and thank God for the blessings we have received from him through her over the course of these last 25 years, let us pray that our love and unity may continue to increase, and thus may serve to draw us — and others — closer and closer to Christ.