Journeying Together at Professional Day
Published: October 12, 2022
The 85th annual Arkansas Catholic Schools Professional Day was held Friday, Sept. 30. After this event was canceled in 2020 and mostly held via livestream in 2021 because of the COVID-19 pandemic, Catholic school staff were able to return in person this year at Christ the King School in Little Rock.
This year's theme was: "Journeying Together." Bishop Anthony B. Taylor celebrated Mass at 9 a.m. Fourteen priests from across the Diocese of Little Rock concelebrated the Mass assisted by Deacons Danny Hartnedy and Jason Pohlmeier.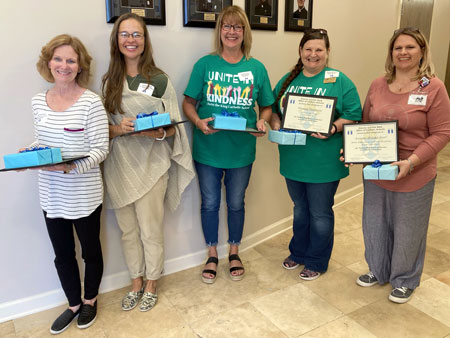 Catholic speaker and author Bob McCarty, who holds a doctorate in ministry from Graduate Theological Foundation of Mishawaka, Indiana, delivered the keynote presentation, "Passing on the Faith: The Pain and the Promise." He also holds a bachelor's degree in sociology/theology from Saint Joseph's University and a master's degree in religious education from LaSalle University, both in Philadelphia. He is an adjunct faculty member at the University of Dallas and Catholic University of America in Washington, D.C.
Break-out sessions were offered in the afternoon. They included sessions on crisis response training, supporting students in difficult times, engaging students in God talk, integrating religion throughout the curriculum, strategies for a sensory rich preschool classroom, the science of reading, Educate LLC's Innovation Spectrum and several other sessions. Various vendors were on hand for educators to visit in the Christ the King Family Life Center. The day was sponsored by W. H. Sadlier, Our Sunday Visitor, Loyola Press, Quaver Ed, NWEA, Apptegy and the Toggery.
Six teachers and staff who have served 25 or more years in Catholic education were also honored during the event. They were: Cindy Robertson (from left), Immaculate Conception School, Fort Smith; Tricia Finch, Our Lady of the Holy Souls School, Little Rock; Vicki Sharum and Theresa Piechocki, Christ the King School, Fort Smith; and Annette Brasko Sterl, North Little Rock Catholic Academy. Piechocki and Sterl were recognized for 26 years of teaching. Mike Berry of Subiaco Academy also was honored, but he couldn't attend Professional Day.
This event is sponsored by the diocesan Office of Catholic Schools. For more information, contact Ileana Dobbins, associate superintendent of Catholic schools, at (501) 664-0340, ext. 322.