John the Baptist prepared way for Jesus
Published: June 16, 2017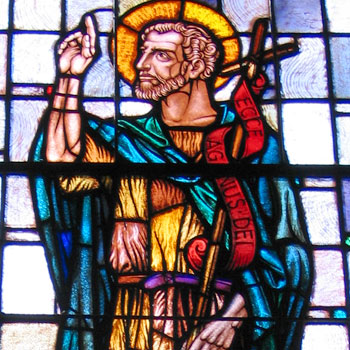 The Solemnity of the Nativity of St. John the Baptist is celebrated on June 24. Though it is a solemnity, it is not a holy day of obligation. From the moment of conception, a relationship was established between Jesus and John.
An angel appeared to an elderly Zechariah and told him his wife, Elizabeth, who had been unable to have children, would give birth to a son to be named John. "He will be filled with the Holy Spirit even from his mother's womb, and he will turn many of the children of Israel to the Lord their God." (Luke 1:5-25)
The angel's predictions began to come true only a few months later when Mary visited her cousin, Elizabeth. After receiving a similar visit from the Angel Gabriel who had explained that the Holy Spirit would come upon her and she would conceive a Son to be named Jesus, Mary went to assist Elizabeth already in her sixth month of pregnancy.
Upon hearing Mary's greeting, John leaped in his mother's womb, announcing the coming of the Lord. "And how does this happen to me, that the mother of my Lord should come to me? For at the moment the sound of your greeting reached my ears, the infant in my womb leaped for joy," Elizabeth said. (Luke 1:43-44)
As an adult, John became a prophet who devoted his life to preparing the way for Jesus. He told those who followed him: "I am baptizing you with water, for repentance, but the one who is coming after me is mightier than I. I am not worthy to carry his sandals. He will baptize you with the holy Spirit and fire." (Matthew 3:11-12)
---