Veni Sancte Spiritus on Pentecost Sunday
Published: May 29, 2020
Jesus promised the Advocate would come. "It is better for you that I go," he told his disciples. "For if I do not go, the Advocate will not come to you. But if I go, I will send him to you." Knowing they were confused, Jesus said, "I have much more to tell you, but you cannot bear it now. But when he comes, the Spirit of truth, he will guide you to all truth." (John 16: 7-13) And before Jesus ascended into heaven he instructed his folllowers to stay together and not leave Jerusalem, "but to wait for 'the promise of the Father' about which you have heard me speak, for John baptized with water, but in a few days you will be baptized with the Holy Spirit." (Acts 1: 4-5)
And when the time for Pentecost came, they were all together in one place, when "suddenly there came from the sky a noise like a strong driving wind, and it filled the entire house in which they were. Then there appeared to them tongues as of fire, which parted and came to rest on each one of them. And they were all filled with the Holy Spirit and began to speak in different tongues, as the Spirit enabled them to proclaim." (Acts 2:1-4)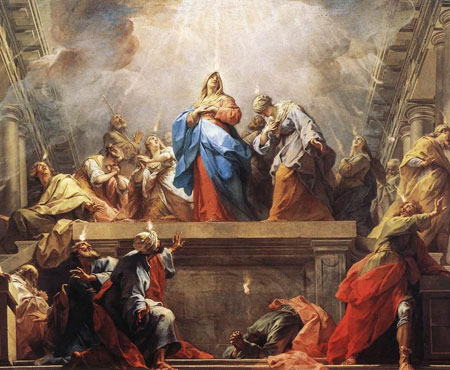 The word "pentecost" comes from the Greek "pentecoste," which means 50th. In the Old Testament the Israelites celebrated the Pentecost festival 50 days after Passover. This celebration takes on a whole new meaning in Jesus. His "Passover" took place through his "passage into suffering and death on the cross, and along with this, his defeat of sin, death and the devil, a victory that was revealed in his resurrection, explained Father Steve Grunow with Word on Fire. "What this text from the Book of Acts is doing is evoking and connecting the Passover and Pentecost of the Old Testament with the Passover and Pentecost of the New Testament."
Pentecost concludes the Easter Season, which leads into Ordinary Time. It is considered the birthday of the Church, for it was on this day, that the Holy Spirit descended upon the Apostles and filled them with the gifts they needed to lead the Church.
During the COVID-19 pandemic, we may experience Pentecost in a new and challenging way. "Pentecost is our annual celebration of this same Holy Spirit breathed out on the world through the Church. The breath of God is given to the Church headed by Christ to guide her members into the fullness of life," explained Father Andrew Clyne with Simply Catholic, a ministry of Our Sunday Visitor. "The celebration of Pentecost this year will be unlike any other in recent memory, and it will be so because of the tragic irony that we find ourselves contending with a virulent disease whose most notable symptom is its denial of breath. This Pentecost we find ourselves longing to be filled with God's breath in a world struggling for air."
"The world before the outbreak of the coronavirus was already significantly marked by fracture. Unfortunately, in many ways the virus has only intensified that reality, deepening the fissures. ... Those of us left wondering how to mark Pentecost this year amid social distancing might simply recall that in spite of our absence from public worship, the Spirit's invitation to the Church to offer fitting worship persists. This is so because 'Church' is not simply showing up for an hour in a building on Sunday. Rather, the Church is realized in the graced response of her members to God's summons for loving unity." | Read the article here.
"The Church is most fully herself when she cooperates with the Holy Spirit to foster that unity. In this alone does she convey genuine gratitude for the gift of God's life, and in turn offers fitting worship expressive of that gratitude," he added.
---
---