Holy Family of Jesus, Mary and Joseph
Published: December 28, 2014
Bishop Anthony B. Taylor preached the following homily in Ponca City, Okla. on Sunday, Dec. 28, 2014.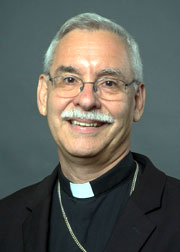 Bishop Taylor
One of the most beautiful miracles that I am privileged to witness is when a couple turns into a family on the occasion of the birth of their first child or when they adopt their first children. Those who are married but do not yet have children are families too — I'm not saying they aren't — but I think those of you who do have children know exactly what I'm talking about.
Childbirth or adoption changes both the husband and the wife — and consequently their relationship — more profoundly than just about any other event in their entire marriage. You are now not just husband and wife, but also father and mother, and this transition to parenthood produces in you virtues that no one knew you had and draws on instincts that surprise even you as a couple.
I had never thought of my sisters as especially courageous until I saw each of them the day they gave birth. And I definitely never thought of my brothers as especially patient until I observed them calmly reasoning with their children regarding their behavior. When they became parents those famous parental instincts kicked in big time and changed them forever.
They were now not just husband and wife, but also foster-father and mother, and this transition produced in them virtues that we see throughout the story of Jesus' infancy and childhood.
Today is the feast of the Holy Family. On Christmas, Mary and Joseph became a family in the full sense of the term and like many of you, the arrival of this child changed them profoundly. They were now not just husband and wife, but also foster-father and mother, and this transition produced in them virtues that we see throughout the story of Jesus' infancy and childhood. We see Mary's courage in riding a very uncomfortable donkey to Bethlehem while nine months pregnant and Joseph's patient, futile attempt to find lodging, and finally their faith-filled, humble acceptance of an unsanitary barn in which to give birth to their child.
At this point they become parents, which changed them more than even the remarkable events of Mary's pregnancy and produced in them the virtues and parental instincts that they would need to protect Jesus from harm and raise him as God would want. And it is a good thing that this change kicked in right away because they soon faced crises far more difficult than the usual grind of sleepless nights and dirty diapers — and far harder to understand.
Some of these events were pleasant but strange: poor shepherds visit at midnight, babble on about angels and then drop to their knees to worship the infant — how strange. Rich foreigners arrive after a long journey, talk about a star and offer gifts of gold, frankincense and myrrh — what to make of this?
And in today's Gospel, odd prophecies about this child's remarkable destiny, spoken in the Temple by Simeon and Anna. But other crises they soon faced were not only strange but also life-threatening and eerily resembled what had happened 1,200 years earlier to Moses. A murderous king killed baby boys in an attempt to eliminate Jesus, the new Moses, but like Pharaoh let the girls live.
Warned in a dream, just like another Joseph 1,700 years earlier, Jesus' father fled with his family to the safety of Egypt, where they lived as refugees. And when the time was right, they left Egypt in a new exodus and made their home in Nazareth. Joseph and Mary's trust in God's providence enabled them to know what to do in their times of crisis. They walked by faith.
More beautiful than the miracle of a couple turning into a family at the arrival of their first child is the even greater miracle of a worldly family turning into a holy family as they learn to walk by faith. We feel so responsible and want to control everything, want everything to be "just so." But if that is where we place our trust, we're in for a rude awakening — that's how the worldly live, and besides, you can't know what the future will hold.
Mary and Joseph show us a better way: do the best you can and then trust God to do the rest — recognize that he's the one in control, not us. Jesus, Mary and Joseph are not the only holy family. They are the holiest family ever, but they are not the only family to walk by faith, trusting God and eager to do his will in all things. This is how you and I are called live as well. So does this describe your family ... is your family truly a holy family too? Today's feast of the Holy Family should be our family feast as well!