Good Friday of the Lord's Passion 2023
Published: April 7, 2023
Bishop Anthony B. Taylor preached the following homily during the Veneration of the Cross at the Cathedral of St. Andrew in Little Rock on Friday, April 7, 2023.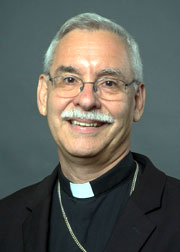 Bishop Taylor
When a prisoner is about to be executed, we ask whether he has any last words. Some ask for forgiveness, others continue to claim to be innocent, and still others just rant and rave.
When loved ones are about to die, we ask whether they have any last wishes. And we feel obligated to fulfill these deathbed wishes.
Well all of us regard Jesus as a loved one and on Good Friday he was a prisoner about to be executed, so we have twice as much reason to listen to his last words and fulfill his deathbed wishes. His last seven words in this life have a lot to say to us who must now take up our crosses and follow him.
His last seven words in this life have a lot to say to us who must now take up our crosses and follow him.
First, Jesus asks God to forgive all who did him harm: "Father, forgive them for they know not what they are doing."
Second, he gives assurance of eternal life to a broken man who put his faith in him: "I assure you, this day you will be with me in paradise."
Third, he provides for those who will be left behind.
1.) He gives us his mother to be our mother, the mother of the Church, represented here by the beloved disciple, the only apostle who did not abandon Jesus on Good Friday; and 2.) At the same time he entrusts the Church, represented by Mary, to the care of this disciple. Jesus said to his mother: "Woman, there is your son," and to the beloved disciple: "There is your mother."
Fourth, he who previously had shown so much charity to others now asks for it for himself: "I am thirsty," and they bring him a sponge soaked in vinegar to wet his lips.
Fifth, he professes his faith in God's ultimate victory by quoting the opening lines of the 22nd Psalm. By quoting the first line, Jesus brings the entire psalm to mind, a psalm which starts out describing the Messiah's suffering and death, "My God, my God, why have you forsaken me?" And then ends proclaiming his ultimate victory: "Let the coming generation be told of the Lord, that they may proclaim to a people yet to be born the justice he has shown."
Sixth, he entrusts himself into the hands of his Father with the same trust with which he began his ministry three years earlier: "Father, into your hands I commend my spirit."
And finally, he declares his mission accomplished: "It is finished."
Those were Jesus' last words, his deathbed wishes that we are obligated to fulfill. Namely, that we forgive those who do us harm, that we give assurance of eternal life to others who put their faith in Jesus, that we turn in time of need to Mary who is now our mother and care for the Church which she represents.
That we extend charity to others, that we put faith in God's ultimate victory, that we entrust ourselves with hope and confidence into the hands of our Father, that we follow Jesus' example, always faithful to the mission God has entrusted to us until the day when our mission too is finished, until the day of our own death.
Then we who have shared in Jesus' sacrificial death will share also in his Easter victory.
These are Jesus' last words in this life but they are not the last word. As we heard in today's second reading, Jesus is "the source of eternal salvation for all who obey him," for all who fulfill his deathbed wishes.