Father Rother to be beatified on Sept. 23
Published: June 12, 2017
Father Stanley Rother will be beatified at 10 a.m. in the Cox Convention Center in Oklahoma City on Sep. 23. All are invited to attend. Admission is free. No tickets required. Doors open at 8 a.m. Click on the button above to follow this Facebook event to get details as they become available. Or call (405) 709 2719 to learn more.
Cardinal Angelo Amato, prefect of the Congregation for Saints' Causes in Rome, will celebrate the rite of beatification for Venerable Servant of God Father Stanley Rother at the Cox Convention Center in downtown Oklahoma City at 10 a.m. on Saturday, Sep. 23. All are invited to attend. Admission is free. No tickets are required. Doors open at 8 a.m.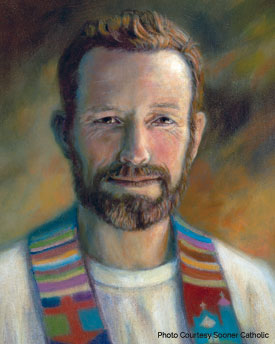 Pope Francis recognized Father Rother's martyrdom last December, making him the first recognized martyr born in the United States. This recognition cleared the way for his beatification, the final stage before canonization.
The Archdiocese of Oklahoma City sent Father Rother to its mission in Santiago Atitlan, Guatemala, in 1968 and while stationed there, he helped build a small hospital, a school and its first Catholic radio station. On July 28, 1981, he was brutally murdered in his parish rectory. The archdiocese opened a cause for sainthood for Father Rother in 2007.
Bishop Anthony B. Taylor was the episcopal delegate for Father Rother's cause from 2007 until he was named the bishop of Little Rock in 2008. He personally interviewed 50 people in Spanish and Tz'utujil, a Mayan language, about their knowledge of Father Rother and the virtues he displayed. Read Arkansas Catholic to learn more. Last July, Bishop Taylor led 20 Arkansans in a pilgrimage to Guatemala to observe the 35th anniversary of Father Rother's death.
To learn more about Father Rother, read his biography or watch the trailer (below) of a new documentary that will be shown for the first time immediately before the beatification Mass on Sept. 23. If visiting Oklahoma City this summer, see "The Shepherd Cannot Run: A Retrospective on the Life of Father Stanley Rother" at the Heritage Gallery at the Catholic Pastoral Center. This free exhibit is open Monday - Friday, 9 a.m. - 4 p.m. through August. Special tours can be arranged by calling (405) 721-5651, ext. 141.
---