Celebrate religious vocations Nov. 1-7
Published: November 1, 2015
National Vocation Awareness Week is being celebrated Nov. 1-7. This annual observance of the Catholic Church in the United States is designed to focus on vocations to the priesthood, religious life and diaconate. It is a time to encourage young people to ask themselves: "To what vocation in life is God calling me?" It is also an opportunity to bring awareness to and pray for those already in discernment of one of these vocations.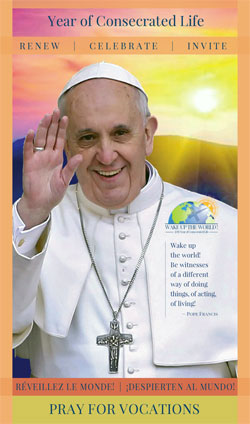 Highlighting the Year of Consecrated Life, Bishop Anthony B. Taylor wrote a letter to pastors and Diocese of Little Rock staff asking them to bring this focus on religious vocations "to a great climax" during National Vocation Awareness Week. "I would ask that from Nov. 1-7 each parish have a homily on vocations to consecrated life, an intercession at every liturgy, a holy hour for vocations and a prayer for vocations to be shared with families to take home," he said in the Sept. 10 letter.
It also offered several online resources including homily suggestions in English and Spanish, prayers for vocations in English and Spanish, prayers of petition and a prayer card with a prayer written by Pope Francis in English and Spanish. To learn more, read the bishop's letter. The Year of Consecrated Life continues through Feb. 7, 2016. For more information about this special celebration, visit U.S. Conference of Catholic Bishops.
"The Commission for the Year of Consecrated Life has been working on many projects that have or will be coming to your attention. I ask that you consider promoting them. Among the projects will be the 'Adopt a Religious' program to connect a parish with a religious, and the Serra Club's Sacred Heart Vocations program for every parish, akin to the visiting chalice program used in some parishes," the bishop continued.
"Please give prayerful consideration to how your parish, school, youth group, etc. can join all Catholics in our nation from November 1-7 in promoting and praying for vocations to Consecrated Life. If that week doesn't work for you, then please choose a week near that time."
National Vocation Awareness Week is sponsored by the U.S. bishops' Committee on Clergy, Consecrated Life and Vocations. It began in 1976 when the U.S. bishops designated the 28th Sunday of the year for this observance. In 1997, the celebration was moved to coincide with the feast of the Baptism of the Lord in January. In 2014, it was moved to the first full week of November.