25th Sunday in Ordinary Time, Year B
Published: September 20, 2015
Bishop Anthony B. Taylor preached the following homily at St. Andrew Church in Yellville on Sunday, Sept. 20, 2015.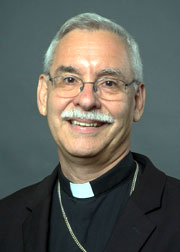 Bishop Taylor
On national holidays we often hear speakers refer to the United States as the greatest country on earth, and we are indeed the most powerful country militarily. Ten years ago we defeated the Iraqi army quite readily, but we're still a long way from winning the peace. Why is that? Because power is not the same thing as greatness!
True greatness comes not from the power to dominate; to coerce, but rather from the ability to persuade. When we force others to submit to us, we place ourselves over them. But when we succeed in persuading people to see things our way, they are the ones who decide whether to change — and it is only by changing hearts that we will ever get lasting peace.
The greatest country is the one that does the best job of changing people's hearts. I think that would be Vatican City — especially in these days of Pope Francis, which is the world's least powerful country militarily.
True greatness comes not from the power to dominate; to coerce, but rather from the ability to persuade.
The same is true also for individuals. In the Gospels for the last two weeks, Jesus tells us just how far he is willing to go in order to change people's hearts. Last week he said that the Son of Man must suffer greatly and be rejected by the elders, the chief priests and the scribes and be killed. Today he says that the Son of Man is to be handed over to men and they will kill him.
But the disciples did not yet understand what true greatness is all about, so when they start discussing which of them is the greatest, meaning the most important, Jesus tells them that they've got it all wrong: True greatness comes not from ambition and the power to dominate, but rather from the ability to persuade others with nothing more than self-sacrificing love, making oneself the servant of all.
This is what Jesus meant last Sunday when he said whoever wishes to come after me must take up his cross and follow me. Whoever wishes to save his life will lose it, but whoever loses his life for my sake and that of the Gospel will save it.
So I ask you: Who are the people who have made the most positive impact on your life? Are they the most powerful people you know as the world judges such things, or are they the people who have sacrificed themselves the most for you? And how did they change you — by coercion or by self-sacrificing love?
I think of my own parents. Sure they had to discipline my bad behavior when they couldn't get through to me any other way. Until a child develops a little impulse control, you have to back up the carrot of persuasion with the big stick of negative consequences — for the child's own good — when he is too stupid to catch on otherwise.
But the most you can do by force is keep the child away from bad influences, keep him out of harm's way, force outward compliance with what you want him to do. But nothing really changes on the inside until the child has a change of heart.
You parents can influence — but ultimately have no control over — the choices they will eventually make as a teenager and as an adult. We've all seen young people who went nuts with all kinds of wild behavior the minute they got out from under their parents' control. And so you do everything you can to teach them to make good choices themselves — which you will achieve, God willing, through the persuasive power of many years of patient, self-sacrificing love. And that's where your true greatness as parents resides.
The same is true for every one of us. Patient, self-sacrificing persuasion is, in the end, far more effective than coercion — even in world affairs. Do you want to be truly effective, truly great? In today's Gospel Jesus tells you how: Make yourself the last of all and the servant of all!