2022 Permanent Diaconate Ordination in Little Rock and Rogers
Published: June 11, 2022
Bishop Anthony B. Taylor preached the following homily during the ordination of 46 men to the permanent diaconate at Christ the King Church in Little Rock on June 11, 2022, and St. Vincent de Paul Church in Rogers on June 25, 2022. It is based on the Gospel of John 17:6,14-19.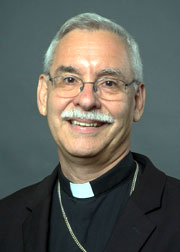 Bishop Taylor
This year we are having deacon ordinations just in time for the beginning of a major effort of the bishops of the United States, a three-year process of eucharistic revival that begins next weekend on the feast of Corpus Christi, the Body and Blood of the Lord. The goal is to renew the Church by enkindling a living relationship with the Lord Jesus Christ in the holy Eucharist — and you deacons are to be agents of that renewal.
You are here because God has called you and because you have heard that call personally in the intimacy of your own heart. The first pillar of this eucharistic renewal is to foster similar encounters with Jesus for others through the Church's ministry of word and sacrament., and as deacons you will do this especially through kerygmatic proclamation in your homilies and through experiences of eucharistic devotion that you foster. It is for this, among other things, that we ordain you today.
The Gospel you just heard comes from Jesus' farewell discourse in John's Gospel. Jesus prays for the disciples, who starting on Pentecost, will be empowered to carry forward his great work of salvation. As the Father sent Jesus into the world, so Jesus sends his disciples into the world — and here "the world" has the nuance of "Godless society."
God chooses persons and sets them apart for special service, and then equips them with the qualities needed to fulfill that service — this is something you new deacons will soon discover.
Their task will be to win the world for Jesus, and for this reason he prays to his heavenly Father for three things that his disciples need — and all of them are things which we still very much need today.
1.) Jesus prays that his disciples be "in the world," but not "of the world." Notice, he did not pray that his disciples be taken out of the world, nor did he offer them any way to avoid the troubles of life. What he offers is a life that faces troubles and overcomes them. So, while a deacon should not be "of the world," it is in the world that our faith must be lived, and even in the most Godless parts of our society the Good News of Jesus Christ must — and will, eventually — prevail.
2.) Jesus asks his Father to protect his disciples from the evil one. There is in our world a force of evil that actively opposes the power of God — and one way or another, we are under attack every day. Many times we fall because we trust too much in our own strength to face it, and we forget to seek the help of God and remember to trust in his power and protection.
3.) Jesus prays that his disciples be consecrated by truth. The original meaning of the word that we translate "consecrated" is "made different or separate," and this applies to you deacons-to-be because ordination "sets you apart" for a special task. We see this in the Bible: When God had Moses ordain the sons of Aaron as priests, that set them apart for a special role.
God chooses persons and sets them apart for special service, and then equips them with the qualities needed to fulfill that service — this is something you new deacons will soon discover. To serve God fully and faithfully, you must have God's goodness and God's wisdom inside you, which he will give you if you open your heart to receive it.
You must have your heart and mind and character fully conformed to God, which he will help you do, if you let him.
Take courage! God does not expect you to carry out the great task he is entrusting to you on your own strength alone, but rather by his grace he will give you all you need to fulfill it faithfully, and will continue to give you that strength, so long as you place your life fully in his hands.
---