14th Sunday in Ordinary Time, Year B
Published: July 5, 2015
Bishop Anthony B. Taylor preached the following homily for the installation of Father John Wakube as pastor of Immaculate Conception Church in North Little Rock on Sunday, July 5, 2015.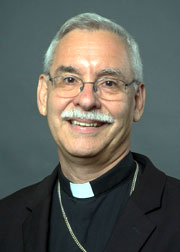 Bishop Taylor
This weekend we celebrate Independence Day, a day of new beginnings for our country 239 years ago and a time to thank God for all the blessings he has showered so abundantly on our nation ever since. In the intervening years there have been many twists and turns in our country's history, some of them confusing, but we know ourselves to be in the hands of a provident God in whom we trust — as even our money declares.
And as Catholics aware of our dependence on God for everything, we not only celebrate this national holiday with fireworks and cookouts, we also gather to pray for our country amid all the challenges we face today.
The same was true for Jesus and his disciples. Today's Gospel makes reference to an important transition moment in Jesus' life. He has come back to Nazareth with his disciples at the beginning of his public ministry and preaches in the synagogue in which he had grown up. The people were at once amazed and confused — they didn't expect this and felt blindsided by a turn of events for which they were completely unprepared.
There is no reason to feel unsettled, uncertain or confused: We are in the hands of a provident God in whom we trust and to whom we pray.
Jesus was a carpenter. They knew his family. Where did he suddenly get all this wisdom they were hearing coming from his mouth? Change is often difficult for people, especially when called for by a message as challenging as the one they were hearing from the lips of Jesus. Where did he get all this? Wasn't everything already going along just fine? They found this all to be very unsettling.
And isn't that the experience your parish is going through right now. If life has shown us anything, whether it be Jesus in his home synagogue or 2015 at Immaculate Conception Church, it is that often we are surprised by the events that impact our lives, and we look for answers to the most puzzling of them. The loss of your former pastor, Father Elliott, can be one of them. And while I do not profess to have all the answers to these questions, I do have a priest to give you as your new pastor, confident that God is watching over this beloved parish.
My reason for coming to your parish today is to install Father John Wakube as your new pastor. He would normally have become eligible to become pastor in October because it was in October last year that he took charge of Our Lady of Good Counsel Parish. My general practice is to have a priest serve as administrator for a year before installing him as pastor of his first formal pastorate, and that was reflected in his initial assignment as administrator, which was announced back in April.
But in Father John's case I soon realized that I should install him as your pastor now, four months early, for the following reasons:
1.) He did very well at Good Counsel at a confusing time in that parish when they too lost their pastor unexpectedly. He handled that situation so well. He also handled a major building project that he inherited so well that I have no doubts about his qualifications to be your pastor in the circumstances you face today.
2.) The word "administrator" could give some the false impression that this is a temporary assignment, that there is someone else waiting in the wings or that Father Elliott may return here after a short time away, which is not going to happen. He'll get a different assignment, so naming Father John pastor instead of administrator eliminates that area of confusion and uncertainty.
3.) Your parish has some important projects in the works and administrators are not supposed to innovate. By installing Father John as pastor there should be no doubt that he is now fully in charge and once approved by the diocese, these projects can go forward under his authority.
Today is a time for prayer and new beginnings. We pray for our country this July 4 weekend, especially given all the problems we face as an increasingly secular nation that has lost its moral bearings, the most recent example of which is in the area of same-sex marriage, about which I issued an important letter this week and which you will receive as an insert in next week's bulletin.
We pray for Father Elliott as he sorts out his own future. And we pray for your new pastor, Father John Wakube as he takes up responsibility for this portion of the vineyard of the Lord, which I am now entrusting to his care. This is one more twist in the twists and turns of your parish history, so it is important to remember that there is no reason to feel unsettled, uncertain or confused: We are in the hands of a provident God in whom we trust and to whom we pray.