2019-20 Catholic Schools Scholarship Appeal
"It is more important than ever that we continue to provide an academically rigorous education, rooted in the Gospel, and rich in the cherished traditions and liturgical practices of our faith. In doing so, we ensure that students will have the foundation to live a moral and upright life to face the challenges brought on by cultural and moral changes in the world today." — Bishop Anthony B. Taylor, Scholarship Appeal Letter, November 2019
The seventh annual Catholic Schools Scholarship Appeal kicks off Nov. 16 to assist schools statewide in raising funds for need-based tuition assistance. A letter from Bishop Anthony B. Taylor and donation envelope was mailed to previous donors. A bulletin insert was provided to all parishes in English and Spanish for the weekend of Nov. 16-17. Donors also have the option of donating online.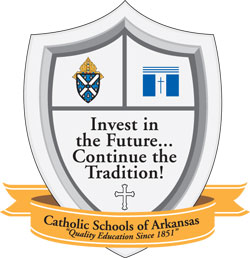 In his letter, the bishop said donors made it possible for 48 students to receive tuition assistance ranging from $500 to $1,000 per family in the 2018 appeal. He quoted a mother who said there was no way her children would have been able to attend Catholic school without this financial assistance.
"They love the school, the teachers, their friends, the priests, the church, and the activities they do every day. With all the struggles we have been through the past two years, for my kids to be able to attend this wonderful school has really made a difference in the way they are facing life at their young ages."
FACTS Management Company, a third-party provider, reviews the applications and determines if a family qualifies for tuition assistance. This year, applicant families qualified for $3 million to assist 765 students. Parishes and schools have committed $1.6 million in assistance, leaving $1.4 million still needed.
This appeal was created in 2013 to close the gap in providing assistance to all the families who requested it. Donations help families who could not otherwise afford to offer a Catholic education to their children. This effort is sponsored by the Office of Catholic Schools. For more information, contact Marguerite Olberts, associate superintendent, at (501) 664-0340, ext. 394.
Donors may mail a check to: Catholic Schools of Arkansas Scholarship Appeal, Diocese of Little Rock, P.O. Box 7565, Little Rock, AR 72217-7565, or donate online via credit card.