2021-22 Catholic Schools Scholarship Appeal
Click on the button above to make a one-time donation or set up a monthly pledge to help families in need keep their children in Catholic schools in Arkansas. For more information, contact Marguerite Olberts, associate superintendent, at (501) 664-0340, ext. 394. | Leer en español.
The eighth annual Catholic Schools Scholarship Appeal kicks off Nov. 13-14 to assist schools statewide in raising funds for need-based tuition assistance. There are Catholic schools throughout the country closing because of the financial impact of the COVID-19 pandemic. Support of this appeal can help prevent that from happening in Arkansas. | Leer en español.
"Our Catholic schools are facing a combination of financial challenges: decreased subsidy from parishes; canceled fundraising events; decreased enrollment; and a greater need for financial assistance for families negatively affected by the pandemic," explained Bishop Anthony B. Taylor in his letter to parishes. Read the letter in English or Spanish.
Tuition rates in Catholic elementary and secondary schools in Arkansas are significantly less than the actual cost of educating students in our Catholic schools. Yet the cost of tuition is a challenge to hundreds of our families who desire a Catholic education for their children. Parish subsidies, school fundraising and foundations provide funds for financial assistance, but not enough, especially this year.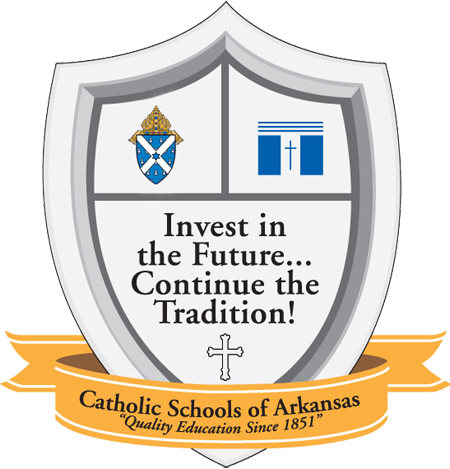 Last year, donations from this appeal provided tuition support to 79 students ranging from $400 to $1,500 per family. This year, the estimated need is $525,505. All funds raised through this appeal go directly to an Arkansas Catholic school to provide tuition assistance to a family with a demonstrated financial need.
"Catholic schools are an integral part of the teaching mission of the Church because they assist parents in the important obligation of educating and forming their children through faith development. This year our schools have responded beautifully finding creative and practical solutions to challenges related to safety and virtual learning," the bishop wrote. "They continue to provide a rigorous education, rooted in the Gospel, and rich in the cherished traditions and liturgical practices of our faith."
"Even in the midst of a pandemic, our schools are ensuring that students will have the foundation to live a moral and upright life to face the challenges brought by changes in the world today," he added. This letter along with a donation form was provided to all parishes in Arkansas for the weekend of Nov. 13-14. See the donation form in English or Spanish. Donors may also donate online.
FACTS Management Company, a third-party provider, reviews the applications and determines if a family qualifies for tuition assistance.
This appeal was created in 2013 to close the gap in providing assistance to all the families who requested it. Donations help families who could not otherwise afford to offer a Catholic education to their children. This effort is sponsored by the Office of Catholic Schools. For more information, contact Marguerite Olberts, associate superintendent, at (501) 664-0340, ext. 394.
Donors may mail a check to: Catholic Schools of Arkansas Scholarship Appeal, Diocese of Little Rock, P.O. Box 7565, Little Rock, AR 72217-7565, or donate online via credit card.
Thank you so much for your gift, and remember our Catholic schools in your prayers.