St. Leo the Great University Parish - Russellville
Mass Schedule
| | |
| --- | --- |
| Sun. | 11:30 a.m., 7 p.m. |
| Holy Days | As announced |
Confession
Sun. 11 a.m., 6:30 p.m.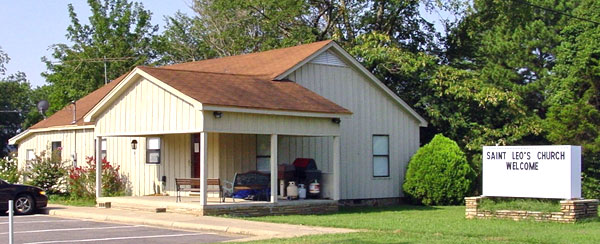 St. Leo the Great University Parish
Russellville (Pope County) - River Valley Deanery
Location:
509 W. L St.
Russellville AR 72801
Mailing Address:
P.O. Box 9033
Russellville AR 72811
(479) 968-8249
stleoatu@gmail.com
This is a personal parish (Code of Canon Law, Can. 518) with a unique mission of serving the college students, faculty and staff at Arkansas Tech University in Russellville.
Pastor
:
Fr. Ernest Hardesty
Director: Pat Buford (stleoatu@gmail.com)
Development: Mary Corkins