St. Boniface Church - Fort Smith
Mass Schedule
| | |
| --- | --- |
| Sat. | Vigil 4 p.m. (English) |
| Sun. | 8 a.m. (Spanish); 10 a.m. (English); 1 p.m. (Spanish) |
| Tues. | 8 a.m. (English) |
| Wed. | 6 p.m. (Spanish) |
| Thu. | 8 a.m. (English) |
| Fri. | 8 a.m. (English) |
| Holy Days | As announced |
Confession
Sat. 3 - 3:30 p.m.; Wed. 5 p.m.
Adoration
Perpetual adoration 24 hours a day
Because of COVID-19 restrictions the chapel may be closed or hours restricted.The chapel is located on the west end of the church office. For more information, contact Rudy and Dorothy Gramlich at (479) 452-7595 or John and Joyce Becker at (479) 783-8569.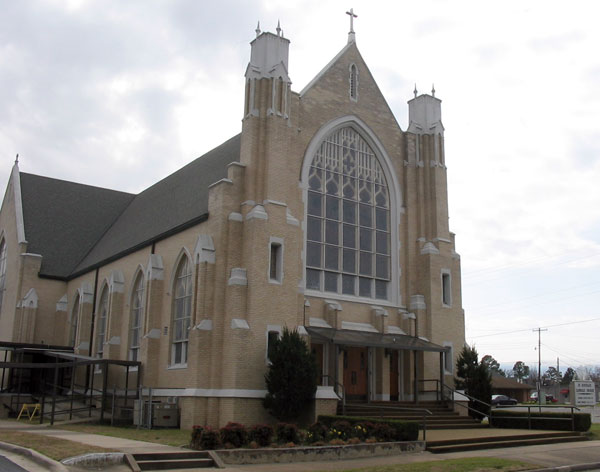 St. Boniface Church
Fort Smith (Sebastian County) - West River Valley Deanery
1820 N. B St.
Fort Smith AR 72901
Office Hours: Mon. - Thurs. 9 a.m. - 3 p.m.; Fri. 9 a.m. - noon
First Friday Devotion:
8 a.m. Mass (English); 6 p.m. Mass (Spanish)
9 a.m. - 6 p.m. (Adoration in church)
(479) 783-6711
stbonifacefortsmith.com
stbfaceoffice@gmail.com
Visit our Facebook
Pastor
:
Fr. Mario Jacobo
(frmjacobo@gmail.com)
Business Manager: Debbie Bogner
Secretary: Janice Locknar
Director of Faith and Formation: Diane Willis
Hispanic Ministry: Maria Vazquez
Music Director: Ann Furr