Sacred Heart of Mary Church - Barling
Mass Schedule
| | |
| --- | --- |
| Sat. | Vigil 6 p.m. |
| Sun. | 10 a.m. (English); 8 a.m., noon (Vietnamese) |
| Tues. | 7:05 p.m. (Vietnamese) |
| Wed. | 5:30 p.m. (Vietnamese) |
| Thu. | Noon (English); 7:05 p.m. (Vietnamese) |
| Fri. | 8 a.m. (English); 7:05 p.m. (Vietnamese) |
| Sat. | 8:20 a.m. (Vietnamese, rosary 8 a.m.) |
| Holy Days | As announced or visit www.shmbarling.org for Mass times |
Confession
Sat. 7:30 - 8:15 a.m. (Vietnamese), 5:30 p.m. (English); Sun. 11:25 - 11:55 a.m. (Vietnamese)
Adoration
| | |
| --- | --- |
| Tues. | 6:30 p.m. (Vietnamese) |
| Thu. | 6:30 p.m. (Vietnamese) |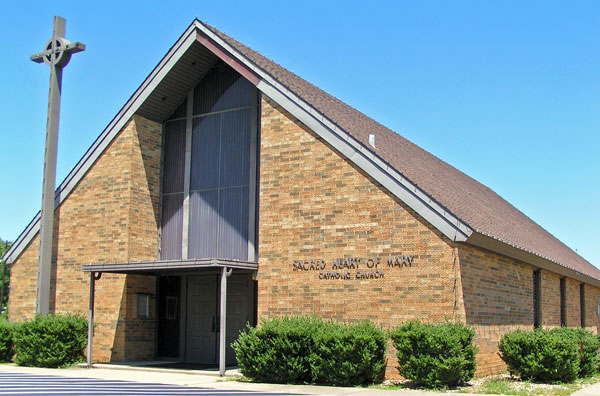 Sacred Heart of Mary Church
Barling (Sebastian County) - West River Valley Deanery
1301 Frank St.
Barling AR 72923
Also Attends
Sts. Sabina and Mary Church - Jenny Lind
Office Hours: Tues. noon. - 5 p.m.; Wed., Thurs. 9 a.m. - 3 p.m.
(479) 452-1795
(479) 434-2513
www.shmbarling.org
Please check the parish website for changes in Mass times.
The Knights of Columbus meet on the first Sunday of the month at 5 p.m.
Our Lady of the Precious Blood rosary is held on the first Tuesday of the month at 1:30 p.m. in the church.
Pastor
:
Fr. Matthew Garrison
(mgarrison@shmbarling.org)
Associate Pastor
:
Fr. Peter Le-Thanh Quang
Office Manager: Julie Anderson (janderson@shmbarling.org)
Finance Manager: Kathleen Sweeney (ksweeney@shmbarling.org)
Director of Faith Formation and Evangelization for Adults: Jeff Hines (jhines@shmbarling.org)
Director of Faith Formation and Evangelization for Youth: Garrett Bannister (gbannister@shmbarling.org)