Sacred Heart of Mary Church - Barling
Mass Schedule
| | |
| --- | --- |
| Sat. | Vigil 4 p.m. (English, Parish Center, also livestreamed), 6 p.m. (English, Parish Center); 8 p.m. (Vietnamese, Parish Center, also livestreamed) |
| Sun. | 10 a.m. (English, Parish Center, also livestreamed); 8 a.m., noon (Vietnamese, Parish Center) |
| Mon. | 7 p.m. (Vietnamese, Church) |
| Tues. | 7 p.m. (Vietnamese, Church) |
| Wed. | 7 p.m. (Vietnamese, Church) |
| Thu. | 7 p.m. (Vietnamese, Church) |
| Fri. | 7 p.m. (Vietnamese, Church) |
| Holy Days | As announced, or visit www.shmbarling.org for Mass times |
Confession
By appointment only (English); Mon. - Fri. 6:30 p.m., or by appointment (Vietnamese)
Adoration
| | |
| --- | --- |
| Mon. | 7:45 - 8:30 p.m. (Vietnamese) |
| Tues. | 7:45 - 8:30 p.m. (Vietnamese) |
| Wed. | 7:45 - 8:30 p.m. (Vietnamese) |
| Thu. | 7:45 - 8:30 p.m. (Vietnamese) |
| Fri. | 7:45 - 8:30 p.m. (Vietnamese) |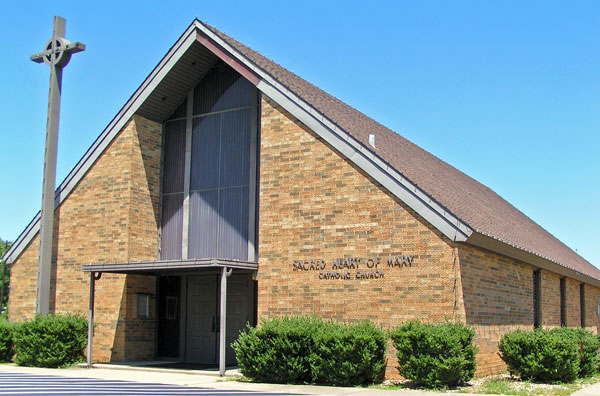 Sacred Heart of Mary Church
Barling (Sebastian County) - West River Valley Deanery
1301 Frank St.
Barling AR 72923
Also Attends
Sts. Sabina and Mary Church - Jenny Lind
Office Hours: None; emails and voicemails returned quickly
Please practice physical distancing and use hand sanitizer upon entering and exiting. Please confirm Mass times on website. Livestreamed Masses on Facebook.
Make appointment for reconciliation by emailing Fr. Matt Garrison (mgarrison@shmbarling.org) or calling (479) 452-1795.
(479) 452-1795
(479) 434-2513
www.shmbarling.org
facebook.com/sacredheartofmary
twitter.com/SHMBarling
instagram.com/shmbarling
Weekend Masses are in parish center and daily Vietnamese Masses are in church. (Rosary 6:30 p.m., Mass 7 p.m. Mon. - Fri.) Watch Gospel reading and reflection Mon. at noon, Divine Mercy Chaplet Wed. at 3 p.m. and rosary Fri. and Sun. at 9 a.m. in English on Facebook. Church open for private prayer Mon. - Sat. 9 a.m. - 6 p.m., Sun. 1 - 6 p.m. using side entry. Our Lady of the Precious Blood Rosary is first Tues. at 1:30 p.m. in church.
Pastor
:
Fr. Matthew Garrison
(mgarrison@shmbarling.org)
Associate Pastor
:
Fr. Peter Le-Thanh Quang
(peterlequang59@yahoo.com)
Office Manager: Julie Anderson (janderson@shmbarling.org)
Finance Manager: Kathleen Sweeney (ksweeney@shmbarling.org)
Director of Adult Faith Formation and Evangelization: Jeff Hines (jhines@shmbarling.org)
Director of Youth Faith Formation and Evangelization: Emily Bannister (ebannister@shmbarling.org)