Add to My Calendar

2021-03-19

2022-06-26

11

Year of Amoris Laetitia Family

On March 19, the Church celebrates the fifth anniversary of Pope Francis's apostolic exhortation, "'Amoris Laetitia' (The Joy of Love), on Love in the Family." On this same day, Pope Francis will launch the year of "Amoris Laetitia Family," which will conclude with the World Meeting of Families in Rome on June 26, 2022. Pope Francis announced the special observance during his Angelus message on the feast of the Holy Family on Dec. 27, 2020. He ended his address invoking the Blessed Mother, "May the Virgin Mary grant that families throughout the world be increasingly fascinated by the evangelical ideal of the Holy Family, so as to become a leaven of (a) new humanity and of a genuine and universal solidarity." During the year, the Church will ask the faithful to reflect on "Amoris Laetitia" through forums, symposiums, video projects and catechesis as well as resources for family spirituality, pastoral formation and marriage preparation. This event is being coordinated by the Vatican's Dicastery for Laity, the Family and Life. For more information, read Arkansas Catholic or visit the U.S. Conference of Catholic Bishops or watch the Holy Father reflect on how the Church can help families faces the challenges of life.

Worldwide

true

DD/MM/YYYY
Friday, March 19, 2021 - Sunday, June 26, 2022
Location: Worldwide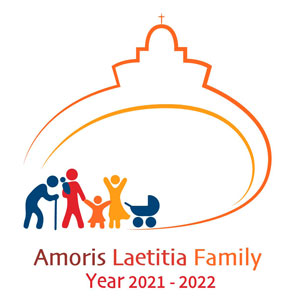 On March 19, the Church celebrates the fifth anniversary of Pope Francis's apostolic exhortation, "'Amoris Laetitia' (The Joy of Love), on Love in the Family." On this same day, Pope Francis will launch the year of "Amoris Laetitia Family," which will conclude with the World Meeting of Families in Rome on June 26, 2022.
Pope Francis announced the special observance during his Angelus message on the feast of the Holy Family on Dec. 27, 2020. He ended his address invoking the Blessed Mother, "May the Virgin Mary grant that families throughout the world be increasingly fascinated by the evangelical ideal of the Holy Family, so as to become a leaven of (a) new humanity and of a genuine and universal solidarity."
During the year, the Church will ask the faithful to reflect on "Amoris Laetitia" through forums, symposiums, video projects and catechesis as well as resources for family spirituality, pastoral formation and marriage preparation. This event is being coordinated by the Vatican's Dicastery for Laity, the Family and Life. For more information, read Arkansas Catholic or visit the U.S. Conference of Catholic Bishops or watch the Holy Father reflect on how the Church can help families faces the challenges of life.
---