Friday, March 19, 2021 - Sunday, June 26, 2022
Location: Worldwide

"It's not enough to repeat the value and importance of doctrine if we don't safeguard the beauty of the family and if we don't compassionately take care of its fragility and its wounds," Pope Francis said March 19, 2021, in a message to a Rome conference marking the fifth anniversary of "'Amoris Laetitia' (The Joy of Love), on Love in the Family," his 2016 exhortation of marriage and family life, according to Catholic News Service.
The conference, sponsored by the Dicastery for Laity, the Family and Life, the Diocese of Rome and the Pontifical John Paul II Theological Institute for the Sciences of Marriage and Family, kicked off celebrations of the "Amoris Laetitia Family Year," which will conclude June 26, 2022, at the World Meeting of Families in Rome.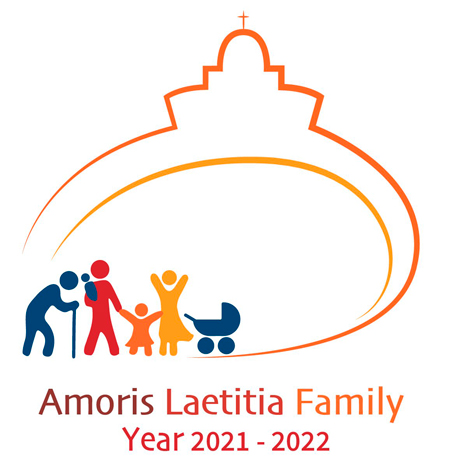 The Church can proclaim the truth and assist families, the pope said, only by "immersing itself in real life, knowing up close the daily trials of spouses and parents, their problems and sufferings, all the small and large situations that weigh them down and, sometimes, block their journey."
"A Gospel that proposed itself as doctrine fallen from on high and that did not enter into the 'flesh' of this daily life would risk remaining a beautiful theory and could be lived only as a moral obligation," he added. But the Gospel is more than that, it is a way to proclaim to the world the love of God and the beauty of his plan for humanity.
"We are called to accompany, listen to and bless the journey of families, not only to show them the path, but to make the journey with them," he said. The Church and its ministers must "enter their homes with discretion and with love to say to couples, 'The Church is with you. The Lord is close to you. We want to help you safeguard the gift you have received.'"
Pope Francis announced the special observance during his Angelus message on the feast of the Holy Family on Dec. 27, 2020. He ended his address invoking the Blessed Mother, "May the Virgin Mary grant that families throughout the world be increasingly fascinated by the evangelical ideal of the Holy Family, so as to become a leaven of (a) new humanity and of a genuine and universal solidarity."
During the year, the Church will ask the faithful to reflect on "Amoris Laetitia" through forums, symposiums, video projects and catechesis as well as resources for family spirituality, pastoral formation and marriage preparation. This event is being coordinated by the Vatican's Dicastery for Laity, the Family and Life. For more information, read Arkansas Catholic or visit the U.S. Conference of Catholic Bishops or watch the Holy Father reflect on how the Church can help families faces the challenges of life.
---
---